What a treat! There is something amazing about re-reading a book that we enjoyed thoroughly the first time around. This was our first book review and we went back to re-read it, enjoying every twist and turn in the story once again.
The Finger-Eater by Dick King-Smith and illustrated by Arthur Robins. The tale of a twisted villain, a finger-eating troll named Ulf who is bested by our plucky little heroine Gudrun.
This was the first book that I co-read with my daughter. Co-reading books is a new way of reading with kids, which has created many happy moments with each book reading.
Book Review of The Finger Eater by Dick King-Smith
The Finger-Eater is very different from the books that we usually read to a five-year-old. It introduces a villain who meets his match when he runs into this girl who is not scared easily.
The book was first published in 1992 by Walker Books Ltd. in London. This 64-pager is a breeze and will surely be reread.
This is a great book to read with kids because it introduces more real-world concepts of mischief-makers and what it means to just say ENOUGH.
Great characters that both kids and adults can relate to
The main characters are Gudrun, our protagonist and the finger-eating troll, Ulf. Gudrun is surrounded by victims of Ulf's antics and decides not to endure.
Enduring something was widely accepted over two generations. This is evident by the following quote that was famous in the village.
But Gudrun was not one to endure things as they were, but do something about it. She does not shy away from taking action against what is wrong and uses her wits bravely.
Ulf on the other hand has a nasty habit of eating fingers. People would fall for his good manners and lose their digits. He would try his best to be polite to get what he truly wanted. But this greed was what got the best of him in the end as he bit more than he could chew when he met Gudrun.
There is one dialogue where Gudrun says,
This just goes to show that sometimes it's best to say things out loud so it becomes clear, real and a spoken fact. Something that children often do, state the fact or state the obvious. But we tend to lose it as adults. As we endure many things along the way we tend to accept things as it is and believe there can be no other way.
However, we can all learn from Gudrun that there is always a better way and we must act to achieve it. But before that, we must acknowledge the problem and then do something to solve it.
The illustrations help fuel the imagination
The illustrations are hilarious and just bring the story alive. There is a rawness to them that makes the story more real and the experience of reading with the illustrations is really immersive. One really pauses to look at them and get more invested in the story – kids and adults alike.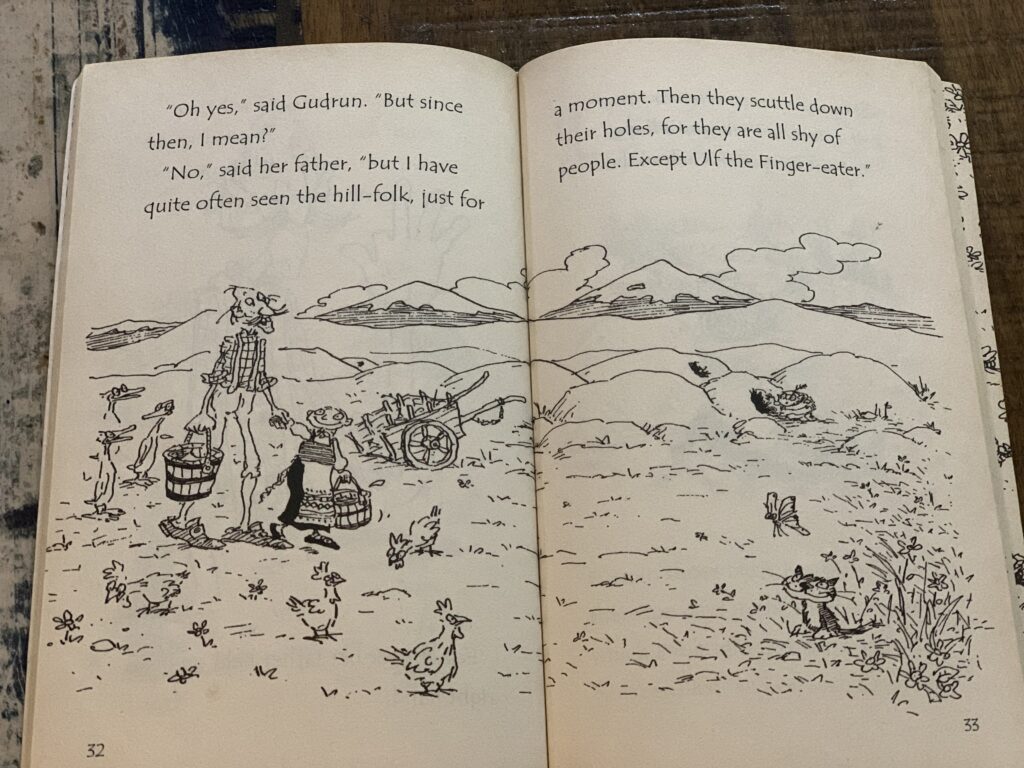 Our Verdict
An absolute MUST READ with your kids that will have you hooked from the cover. It is terrifyingly fun, and absolutely hilarious, with a guarantee of giggles. It is bound to make your kids go 'Again! Again!' while you will enjoy reading things again and again.