In the world of fashion, colours play a major role in shaping trends and expressing personal style. And right now, there's one colour that's stealing the spotlight and making a bold statement – ORANGE.
In this article, we'll explore the significance of the colour orange, delve into the latest fashion trends in orange centred around this vibrant hue, and provide you with insights on how to style it with finesse. So, if you're ready let's embrace our inner orange.
What is the Significance of Orange?
Orange is a colour that radiates energy, enthusiasm, and creativity. It's often associated with attributes like optimism, adventure, and warmth. In many cultures, orange is also linked to spirituality and enlightenment.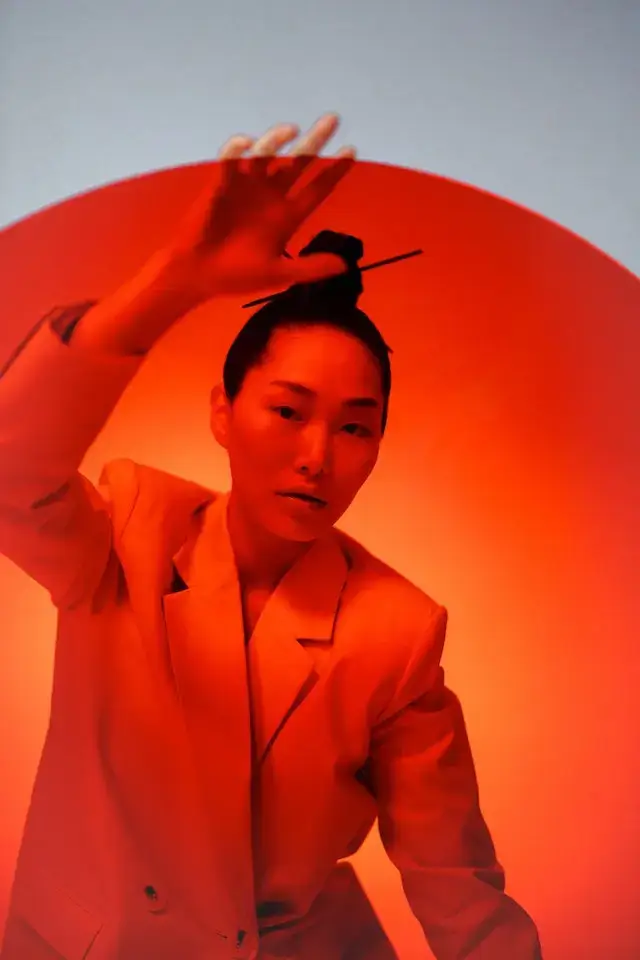 When you incorporate orange into your wardrobe, you're not just wearing a colour; you're making a statement about your vibrant personality and zest for life.
What are the Latest Fashion Trends in Orange?
As with any colour trend, the fashion industry has fully embraced orange in its various shades and forms. Here are some of the latest fashion trends in orange featuring this captivating colour.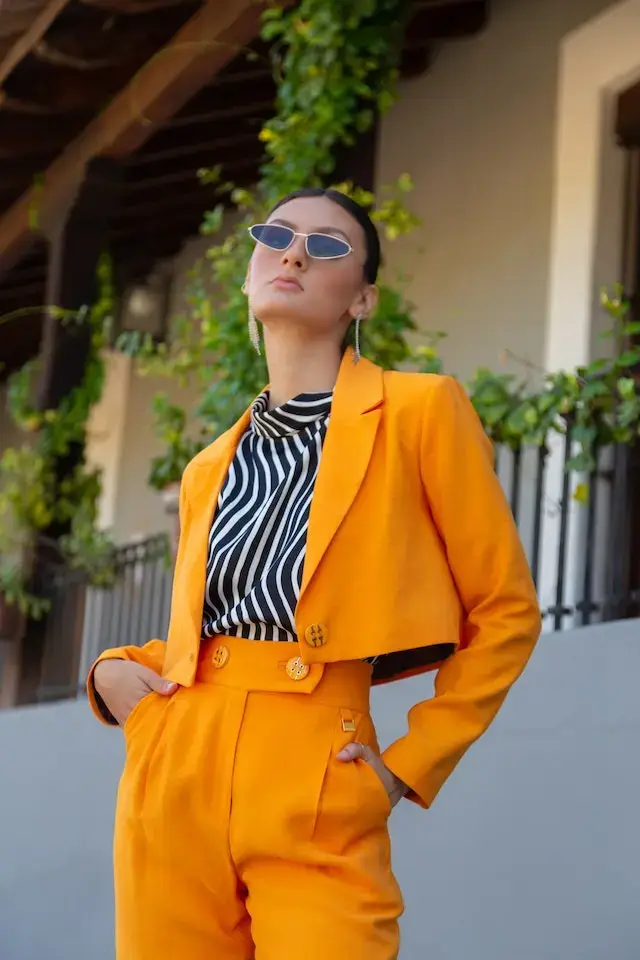 1. Monochromatic Magic
Wearing an all-orange ensemble is a powerful fashion statement. Whether it's a sleek orange jumpsuit, a flowing maxi dress, or a tailored pantsuit, going monochromatic in orange is a trendsetter's dream.
2. Pops of Orange
If you prefer a more subtle approach, you can incorporate pops of orange into your outfit. Think orange accessories like scarves, belts, or handbags that add a vibrant touch to your look.
3. Prints and Patterns
Fashion designers are experimenting with orange in prints and patterns. From bold floral prints to geometric designs, orange-infused patterns are making waves on the runway.
4. Sporty Spice
Activewear enthusiasts, rejoice! Orange has found its way into sportswear, offering a refreshing change from the usual neutrals. Think vibrant orange leggings, sports bras, and sneakers that make your workout attire pop.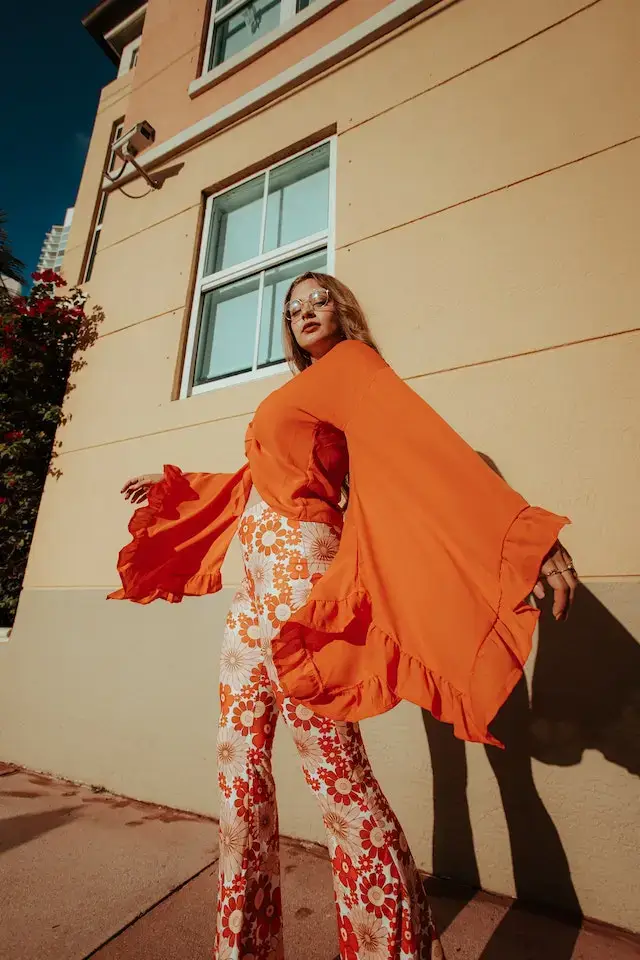 How do you style Orange Outfits?
Now that we've explored the significance of orange and the latest fashion trends in orange, let's talk about how to style this dynamic colour in different outfits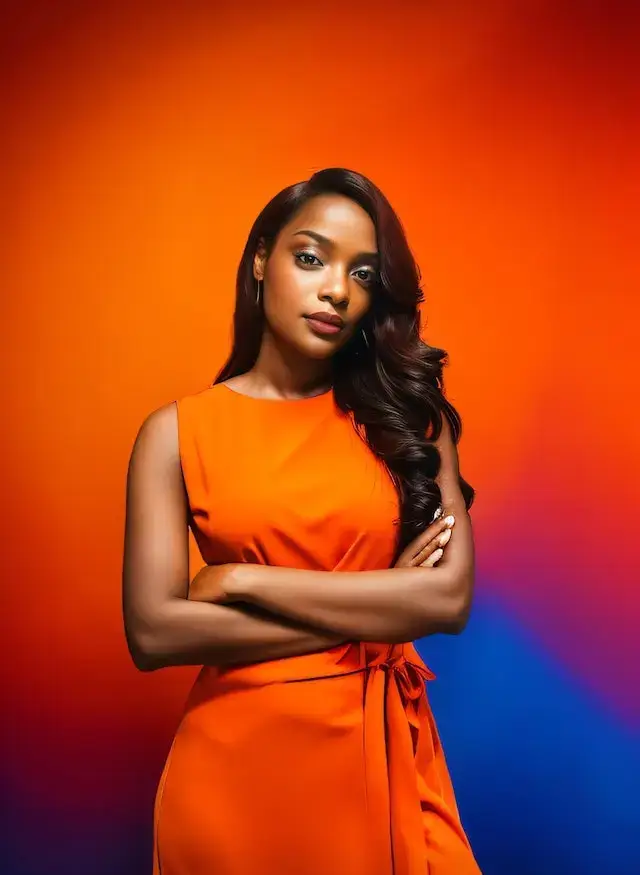 1. Casual Chic
For a casual day out, pair a burnt orange t-shirt with classic blue jeans. The combination of orange and denim is effortlessly stylish and perfect for a laid-back vibe. You can even pair your orange ensemble with a blue makeup look.
2. Elegant Evenings
If you're headed for a night out, consider an orange cocktail dress. Whether it's a bold tangerine or a rich terracotta, an orange dress can make you the centre of attention.
3. Office Elegance
Incorporating orange into your work wardrobe can be subtle yet impactful. Try an orange blouse paired with neutral-coloured trousers or a chic orange blazer over a white shirt.
4. Boho Beauty
Embrace your inner bohemian with an orange maxi skirt. Pair it with a flowy blouse and some statement jewellery for a free-spirited look.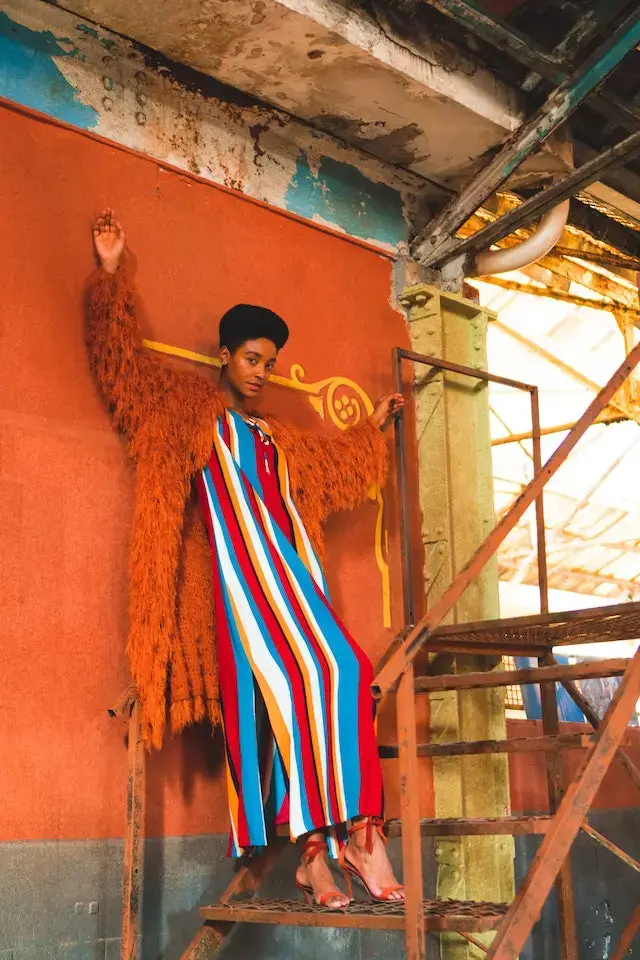 Colour Combinations with Orange
While orange is undoubtedly a showstopper, it also plays well with other colours. Here are some winning colour combinations with orange.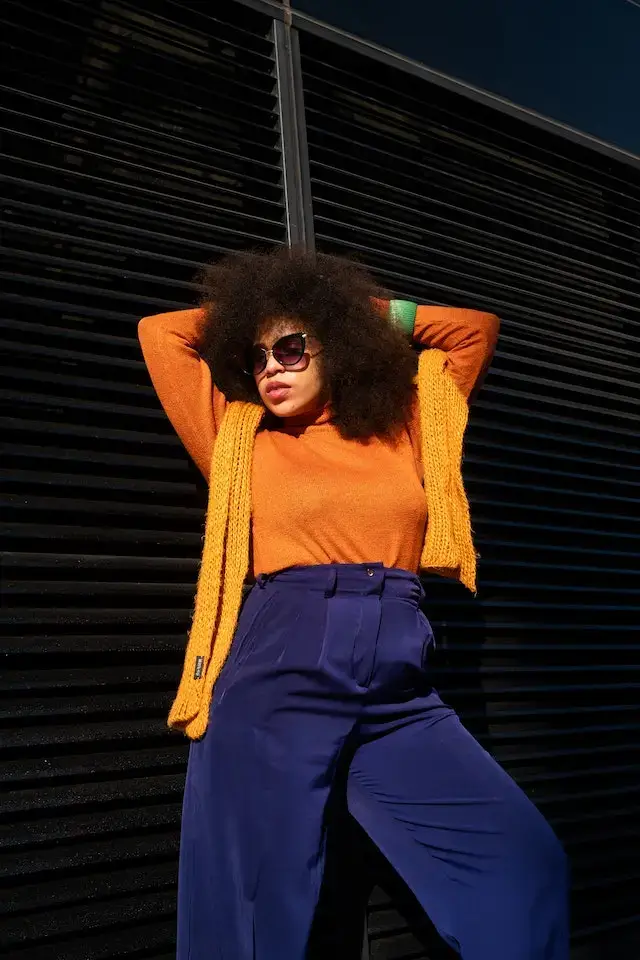 1. Orange and Navy
The most obvious choice is pairing orange with navy blue. This classic combination exudes sophistication and is perfect for a variety of occasions.
2. Orange and Gold
For a touch of luxury, opt for gold accessories with your orange outfit. This pairing is a match made in fashion heaven and adds a glamorous edge.
3. Orange and White
Crisp and clean, orange and white create a fresh and vibrant look, perfect for summer outings.
4. Orange and Green
Embrace nature's palette by combining orange with shades of green. Whether it's a lime green scarf or forest green pants, this pairing is lively and visually pleasing.
5. Orange and Pink
For the bold fashionistas, pairing orange with shades of pink, from coral to fuchsia, creates a striking contrast that's both playful and eye-catching.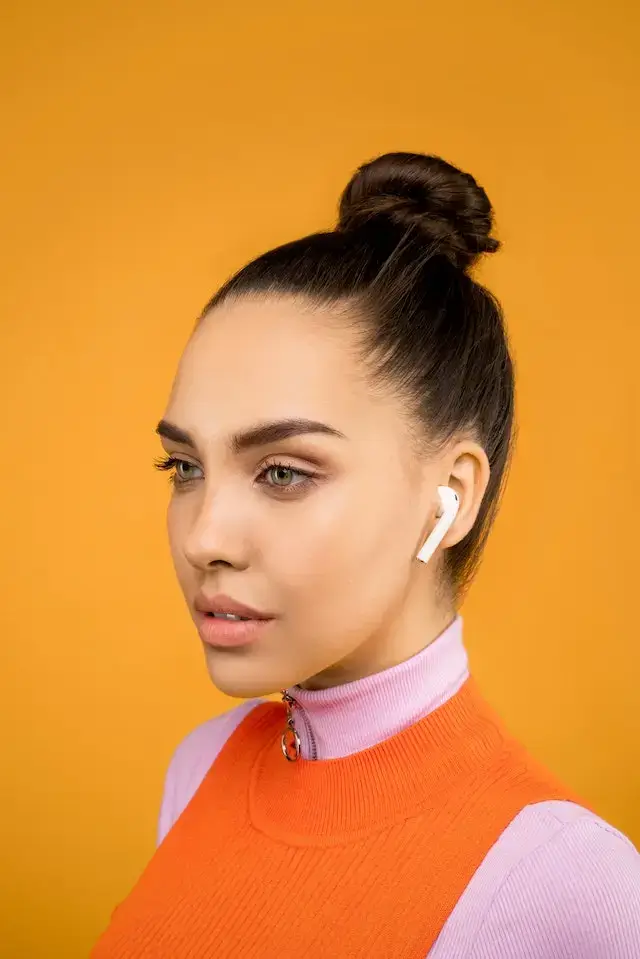 A Few Trendy Ways to Wear Orange
Now that we've covered the essentials of styling orange, let's explore some trendy ways to wear this captivating colour:
Layering: Experiment with layering by combining different shades of orange. For example, layer a light peach top with a deep orange cardigan for a stylish and cosy look.
Accessories Galore: Elevate your outfit with orange accessories. Consider orange statement earrings, a chunky orange belt, or even orange-tinted sunglasses to add a dash of boldness. How about some awesome hair accessories?!
Denim Delight: Pair your orange top or blouse with denim shorts or jeans for a casual and chic ensemble. This combination embodies a carefree and youthful vibe.
Orange Outerwear: Invest in an orange coat or jacket to make a statement during the cooler months. An orange outer layer can instantly brighten up dreary winter days.
Red Hair: Complement your look with a shade of red as your crowning glory.
Print Play: Embrace printed garments that incorporate orange. Floral prints, paisleys, and abstract patterns with orange accents can infuse a playful charm into your wardrobe.
Mixing Textures: Experiment with different textures in your orange outfits. Velvet, silk, or suede can create a luxurious and multidimensional look.
Casual Sportswear: Opt for orange sportswear pieces that combine comfort and style. Think athleisure-inspired orange hoodies or joggers for a trendy and relaxed appearance.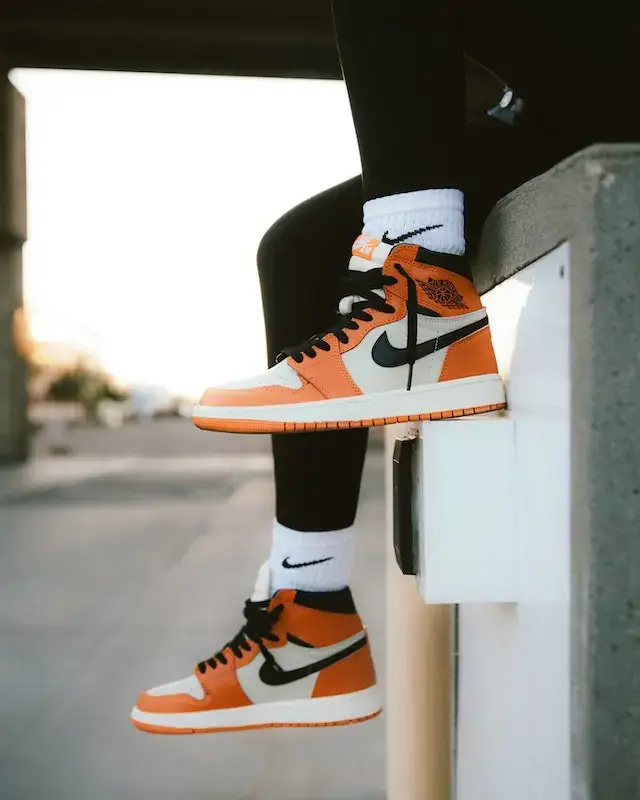 On a Final Note
In conclusion, orange is the colour of the moment, and it's here to stay. Whether you choose to go all-in with an orange ensemble or incorporate it subtly into your wardrobe, this vibrant hue has the power to elevate your style and make a memorable fashion statement.
So, embrace the warmth, energy, and creativity that orange brings to the table, and let your fashion choices reflect your zest for life. Happy styling!