After 2 years of the pandemic, we are now getting back to life as we knew it. In our bid to readjust to the way we did things, we are also evolving with the new normal. We have a newfound respect for life and our loved ones. And we want to celebrate our good fortunes by being bright, bold and beautiful.
The festivals give us a good opportunity to step out and enjoy several feel-good moments and Navratri is one amazing way to have fun while being fashionable.
Most of us are already in the process of upgrading our wardrobe with the latest designs and patterns. With the coming nine days of celebrations, Durga pujas, garba nights and dandiya parties, we are either in the shops or checking out our carts online to pick the latest stuff.
Before you start twirling to the foot-tapping beats of folk music and Bollywood songs our fashion tips are sure to help you grab eyeballs and stand out looking bright, bold and beautiful.
Let's begin with the clothes
It can become overwhelming at times with the variety of options available. Fret not – we have here a list of Navratri dress combinations that is sure to make you not only look good but also feel good.
Asymmetrical Kurta / High Low Kurtas
There is nothing bolder than an asymmetrical kurta that makes an edgy statement. The high-low hemline has been around for a while and won't go anywhere anytime soon. Pair this with a contrasting dupatta and a skirt and you are ready to rock the endless dance parties.
For the regular day, you can pair this kurta with a trendy bottom like cigarette pants or a fun churidar or embroidered pants, and a pair of heels or mojaris to look chic or traditional.
Embroidered Jackets
May your blessing be endless and your layering game strong!
That's one of our wishes for you this Navratri season.
Get yourself an embroidered jacket with traditional patterns and mirrors and pair it with, well….anything. This is one must-have in everyone's wardrobe as it just goes so well with almost anything. Lehengas, sarees, ghagra-cholis, skirts, palazzos, crop tops, long tops and so on and so forth.
The best thing about a jacket is you can just take it off when you get too sweaty after hitting the floor.
Bonus: Add a Gujarati-style turban to complete the look.
Flared Top Paired with a Sharara
A great fusion option, this is a fashion statement piece that's sure to turn heads. Pair a bright coloured embroidered or printed flared top with a sharara and a pair of beautiful thread earrings to look classy and modern.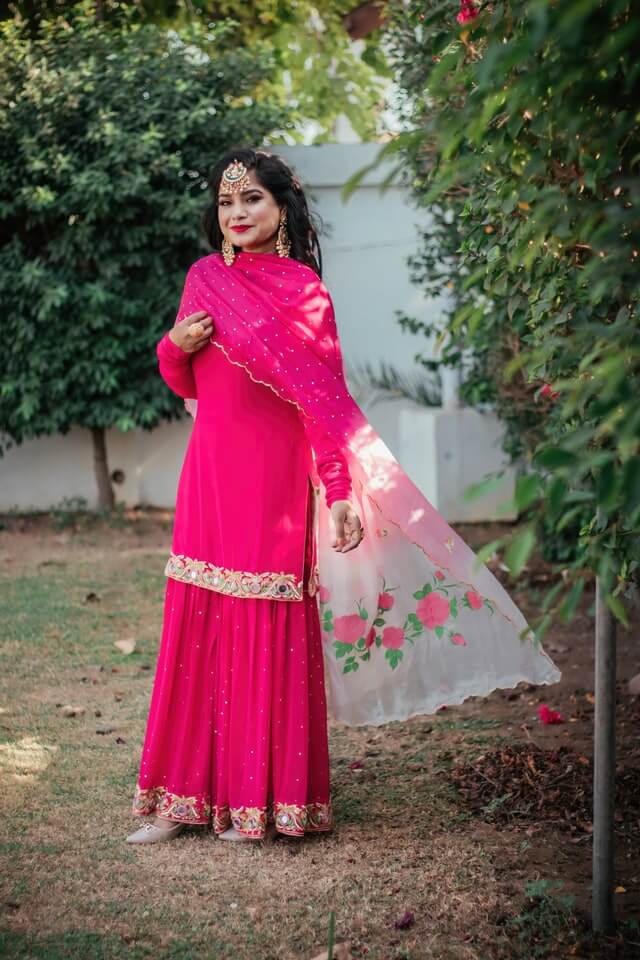 Dhoti Pants
There's something about the dhoti pants that's elegant and comfortable – just perfect for hyperactive festivals like Navratri. Pair your dhoti pants with a short kurti or a front slit-kurta. To go bold go for a heavily embellished crop top or a peplum top, a bold coloured dhoti, silver jhumkas and you are good to go.
Lehengas with crop tops
Another classic, pair a printed embroidered lehenga with a simple plain-coloured crop top, a dupatta draped creatively and you will be ready to charm your way on the dancefloor with this chic elegant look. Accessorize with some silver jewellery to give an ethnic touch to your outfit.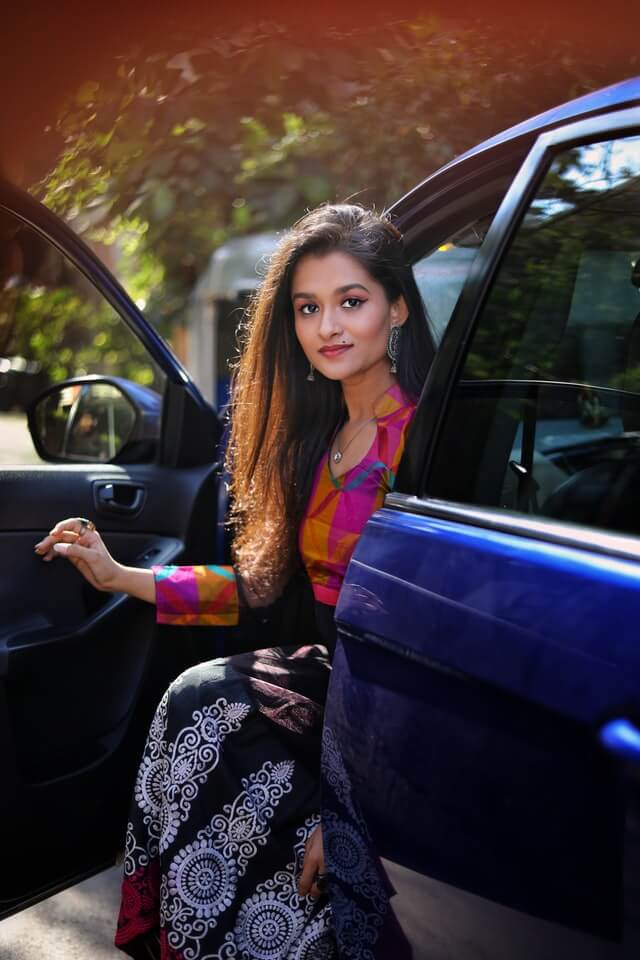 Ruffle Dupatta
Let the frills give you the thrills with the ruffle dupatta. Trend or not, we love it. There's something about this dupatta that just yells feel-good fun. Give your outfit a whimsical feel the minute you don the ruffle dupatta. By just replacing the regular dupatta with this, you amp up any outfit with this fusion statement piece.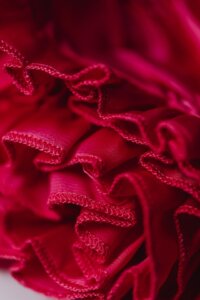 A Colour Guide
The Navratri colour guide this year is: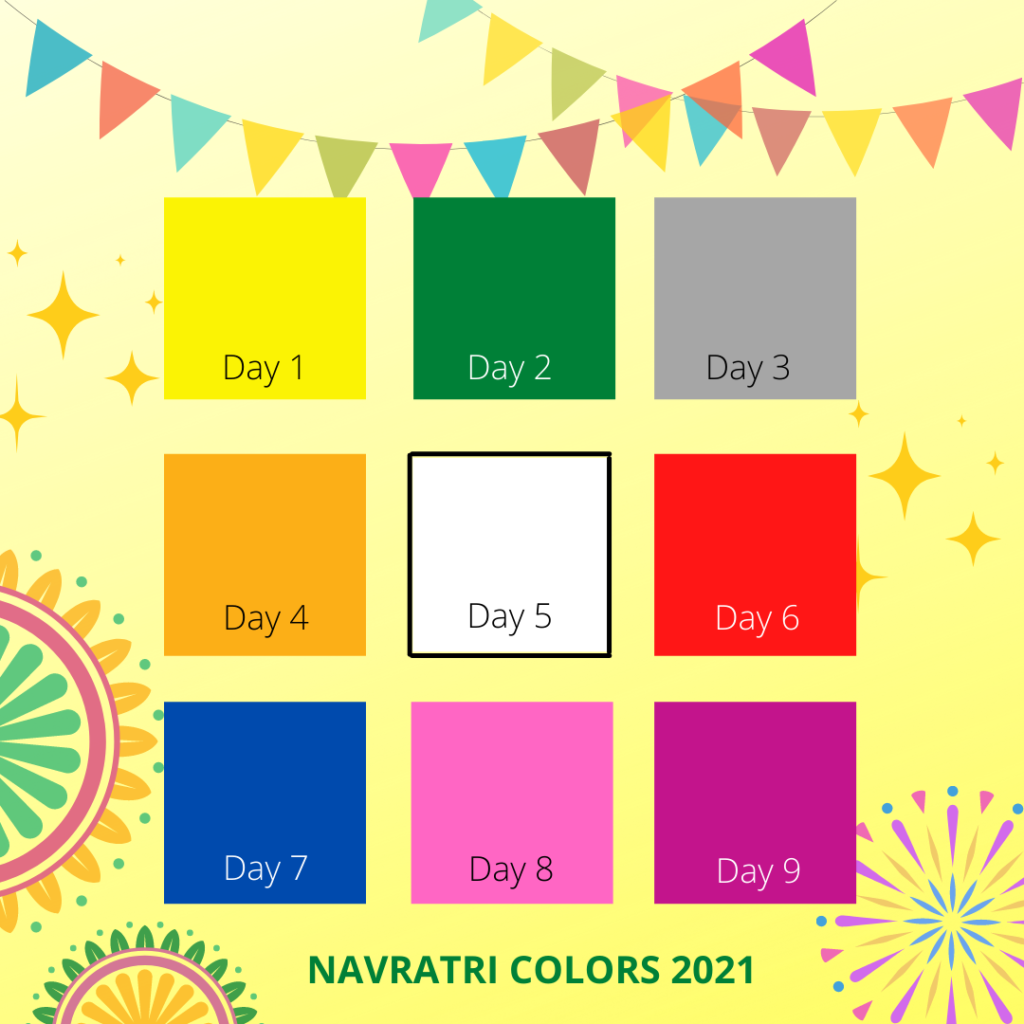 But that's not all. You can do a lot more to your outfits to send your fashion quotient for the celebrations through the roof.
The Finishing Touches
Mix and Match
Navratri is all about dancing into the night. So, it's important to have the comfort to allow you a range of movement. Keeping this in mind, don't be afraid to mix and match any of the combinations mentioned in this blog. You may just discover the next fashion rage and turn into a trendsetter.
Accessorize
Having a statement accessory is a great way to elevate outfits, especially simple ones. An accessory must-have is a choker. Other must-haves are jhumkas, kadas, rings, kamarpattas or waistbands and anklets. For some drama add a headpiece as well. Jewellery in traditional silver, oxidised metal or fabric works best with any kind of Navratri outfit.
If your outfit is on the plain or simpler side go heavy with the jewellery. If it is on the heavier side with more detail and work, keep your jewellery simple. This will give you that balanced look without overdoing or undergoing it.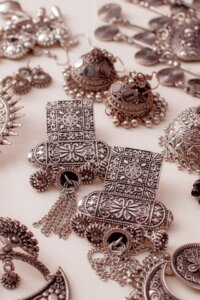 Beauty Tips
First and foremost, invest in good quality smudge-proof and waterproof products so your makeup will be intact through all that heavy sweating while dancing.
The easiest way to put together a smashing Navratri look is with amazing eye makeup and bright lips. You can go for
A monochrome look where you play with different shades of the same colour
A traditional look with golds, the three dots on the chin and next to the eyes and a good red shade for the lips.
The dramatic look with smokey eyes and a nude lip colour
The colourful look with contrasting yet complementing colours. Green eyeshadow with blue liner and a fuschia lip – Have fun with the contrast.
It's all good to look amazing all dolled, but using frequent products on the skin can take its toll. Quick and easy DIY skincare routines can make all the difference. Honey and lemon can work well as a natural bleacher while oats can be used as a scrubber. If you do want to use skincare products, we recommend investing in herbal and organic products.
Hairstyle
A good yet comfortable hairstyle can make or break the look. So if you are going to let down your hair, or go for the fishtail braids, a bun with a pouffe or vintage curls or the intricate Khalesi braids, remember that your hairdo should look finished, clean and easy to dance in.
If you are feeling really experimental, you can add colour to your hair with temporary colour sprays and highlights as a very special hairstyle for Navratri.
Once you get all the essential elements of your hair in place you can style everything to put forth an amazing look with well-coordinated outfits, accessories and hair & makeup. Always keep your personal choice and comfort levels in mind. What you wear with comfort and confidence will enhance your look twofold.
What are you waiting for? Go ahead, have fun and make some amazing Feel Good fashion moments and memories with your amazing Navratri looks. And share with us too.