As the festive season approaches, there's a hue that stands out, capturing the essence of joy and celebration – Yellow. It's a colour synonymous with all things joyful. This vibrant and energetic colour holds a special place in the festive palette, signifying brightness and optimism. Simply put, it's a lively shade of sunshine, and it's got a special place in our hearts, especially during festivities.
In this style guide, we will get into the importance of the colour yellow during festive occasions and explore various stylish ways to incorporate it into your festive looks. From colour combinations that work well with yellow to trendy yellow-themed outfits, let's find ways in which you can shine with elegance and grace this festive season.
What is the Significance of Yellow in the Festive Season?
Yellow isn't just a colour; it's a feeling! It's all about warmth, positivity, and that festive spirit. When you wear yellow during celebrations, you're not just adding a pop of colour; you're spreading optimism and joy.
Incorporating yellow into your festive attire not only adds a vibrant touch but also radiates a sense of optimism and joy. Whether you're attending weddings, Navratri, Diwali celebrations or any other festive occasion, wearing yellow can really uplift your spirits and spread positivity.
Now let's talk about how you can dazzle in yellow!
Stylish Symphonies of the Yellow Color Combinations for Festivities
While yellow is a star on its own, combining it with complementary hues can elevate your festive look. Check out these stylish combos:
1. Yellow and Gold
The combination of yellow and gold exudes opulence and grandeur. Opt for a yellow outfit with intricate gold embellishments or pair a gold blouse with a yellow saree – pure royalty.
2. Yellow and Red
Red and yellow create a striking contrast that symbolizes energy and passion. Try wearing a yellow lehenga with a red dupatta or a red blouse with a yellow skirt for a bold and vibrant appearance. Dare we say, a contrasting red hairstyle could just be a whole new mood on its own.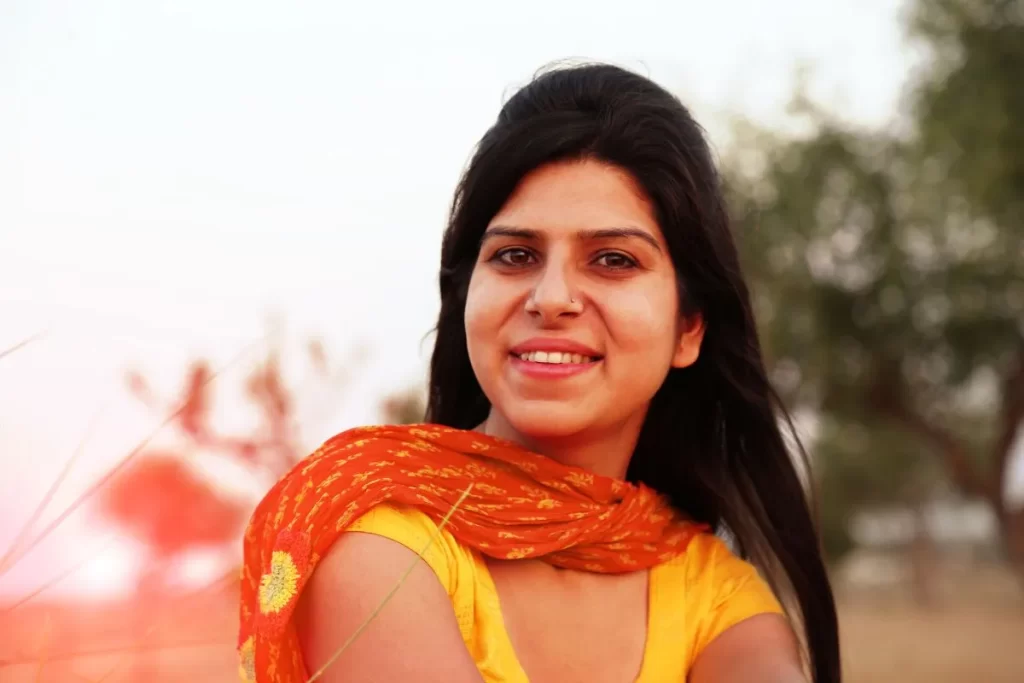 3. Yellow and Green
An amazing combination, yellow and green represents harmony and freshness. Picture a yellow kurta with green embroidery; accessorize your yellow outfit with green jewellery for a perfectly coordinated outfit.
4. Yellow and Pink
Yellow and pink together create a playful, feminine vibe. Go for a yellow anarkali with pink accents or rock a yellow saree with a pink blouse – charming and delightful!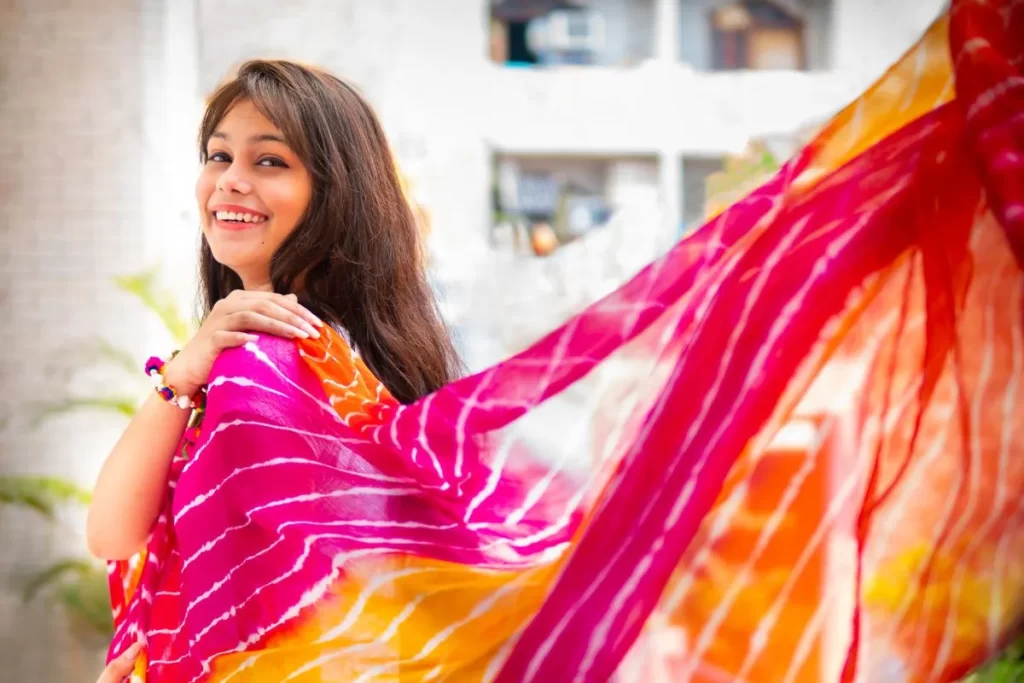 Stylish Ways to Wear Yellow in Festive Looks
Now that you have the perfect colour combinations sorted, let's explore some trendy ways to incorporate yellow into your festive attire:
1. Yellow Lehengas
A yellow lehenga with intricate embroidery or sequin work is a classic choice for festive occasions. Pair it with a matching blouse and statement jewellery for a jaw-dropping look.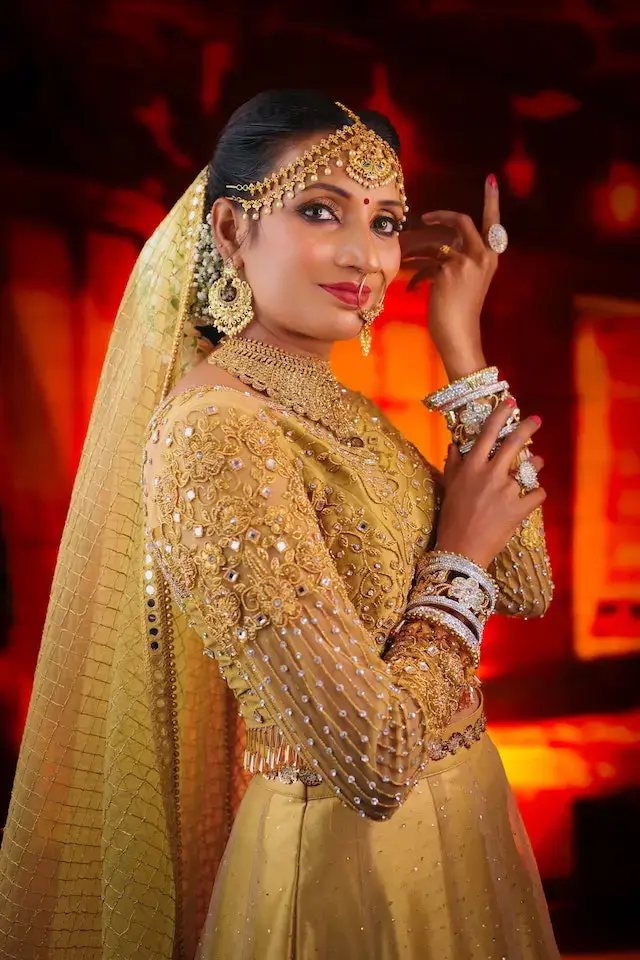 2. Yellow Sarees
A yellow saree with contrasting borders or motifs is a timeless option. Drape it elegantly and accessorize it with traditional jewellery for a classic look.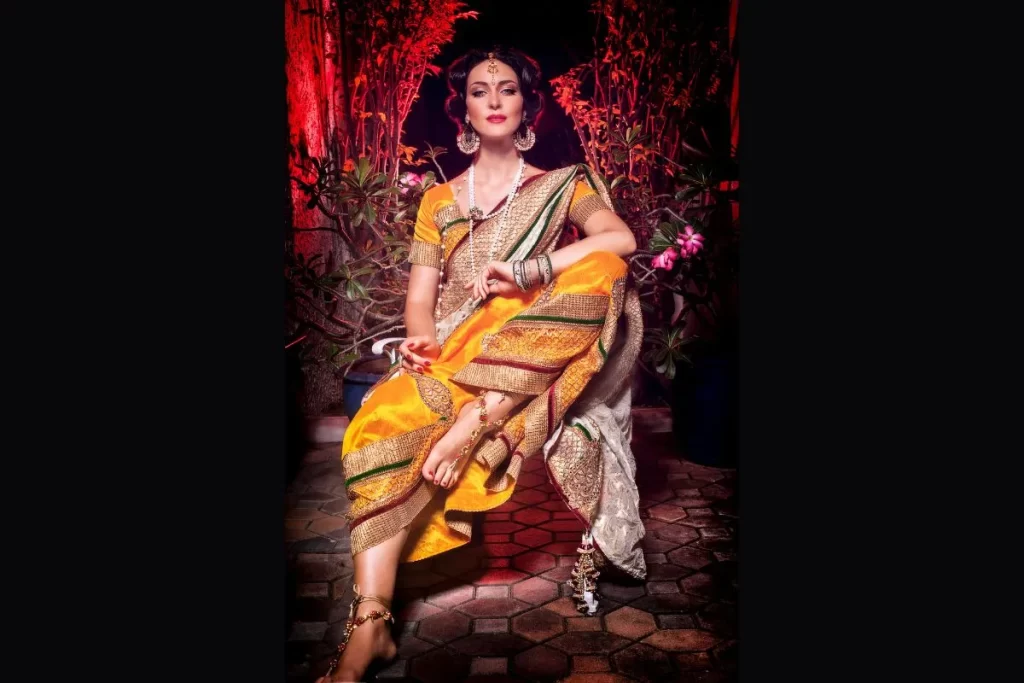 3. Yellow Kurtas
Opt for a yellow kurta with intricate detailing for a comfortable and stylish festive look. Pair it with palazzo pants or leggings for a modern twist.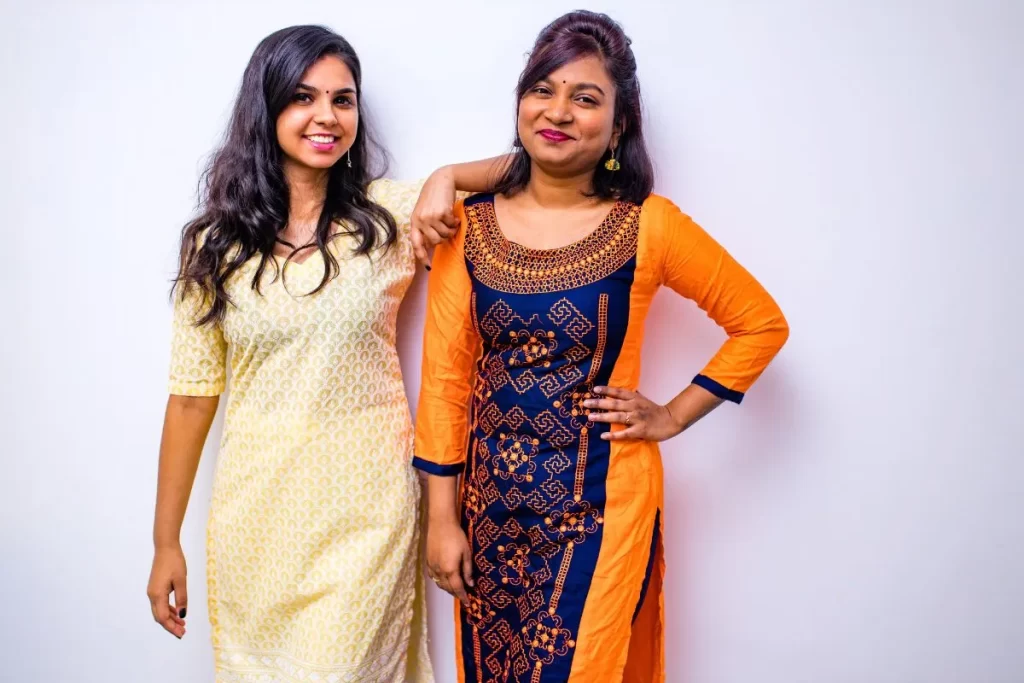 4. Yellow Gowns
If you're heading to an evening celebration, a flowy yellow gown is your best friend. Look for subtle embellishments or embroidery to keep it elegant.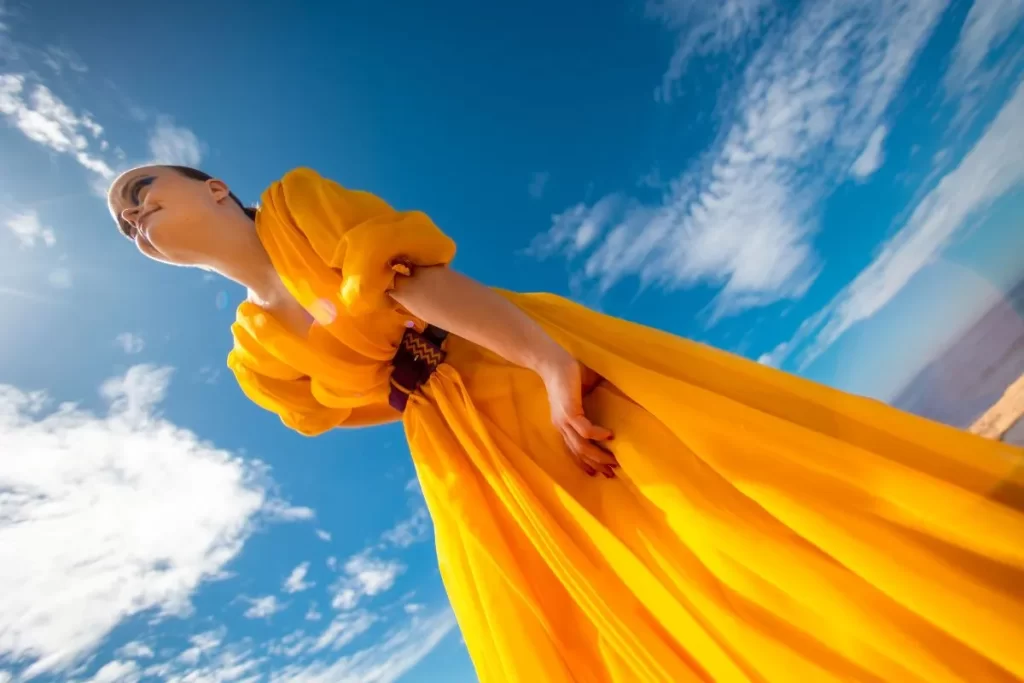 5. Yellow Accessories
Want to keep it low-key? Consider adding a pop of yellow with statement earrings, bangles, or a clutch bag. Small touches, big impact.
Perfect Color Pairings with Yellow for Festivals
While yellow can be a captivating choice, it's essential to strike the right balance to avoid looking like a walking highlighter.
Here are some tips on colour coordination to create a stylish and harmonious festive ensemble:
Neutrals: Pair yellow with neutral colours like white, beige, or ivory to tone down the vibrancy while maintaining an elegant look.
Pastels: Soft pastel shades like mint green, baby pink, or lavender can complement yellow beautifully, creating a soothing and chic combination.
Monochrome: Go all in with different shades of yellow in your outfit for a monochromatic look that's both trendy and sophisticated.
Contrasting Colors: Balance yellow with contrasting colours like orange, navy blue, deep maroon, or emerald green to for a visually appealing ensemble.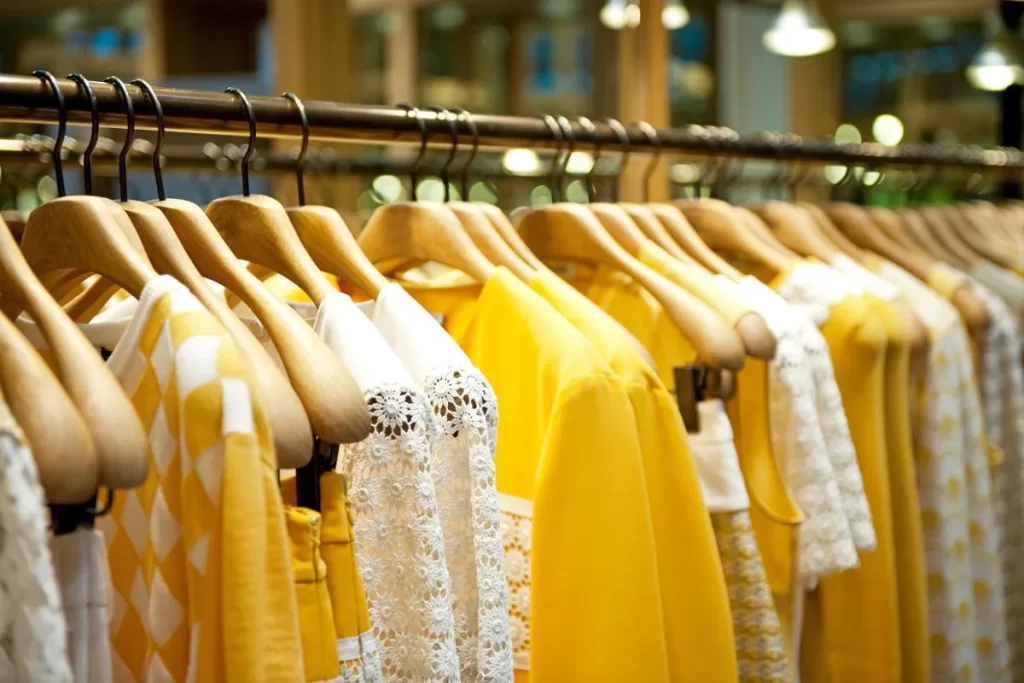 Trendy Ways to Embrace Yellow in Festive Attire
For some extra oomph to keep the yellow on-trend consider these fashion-forward ideas:
Layered Look: Experiment with layering by adding a sheer cape, jacket, or shrug to your yellow outfit, a sophisticated look with depth and dimension.
Modern Silhouettes: Go for modern silhouettes like flared pants, A-line kurtas, or peplum blouses to give your traditional yellow outfit a modern twist.
Printed Patterns: Explore yellow outfits with intricate prints like florals, paisleys, or geometric designs to add visual interest to your attire.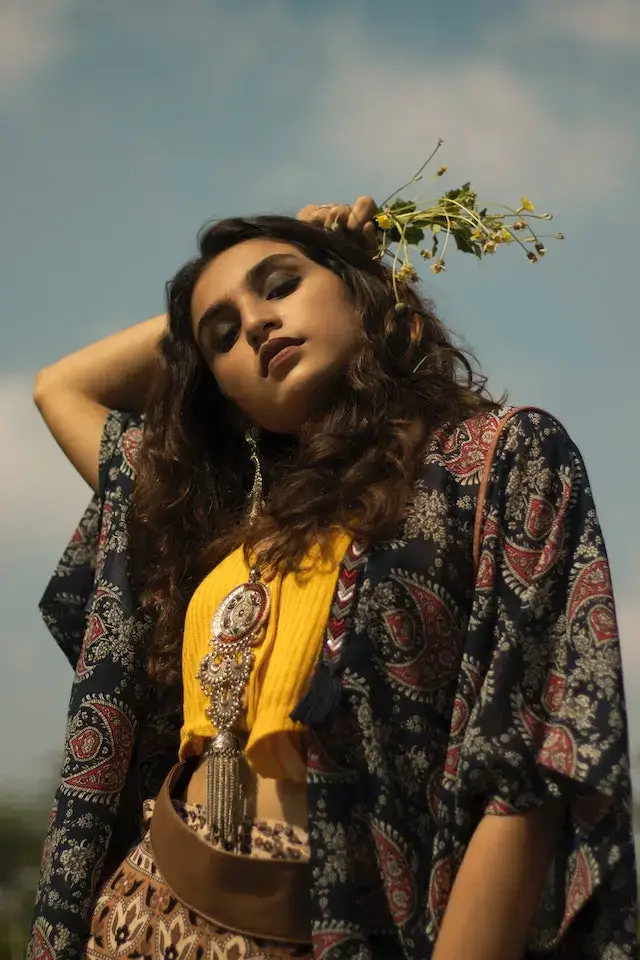 Radiate Elegance in Yellow
In conclusion, yellow is the colour of positivity, and it holds a special place in festive celebrations. By carefully choosing yellow colour combinations, embracing stylish ways to wear yellow, and coordinating it with other colours, makeup, fashion or accessories – you'll be the star of every celebration.
Remember, the key to avoiding a flashy appearance while wearing yellow is balance. Choose colours and accessories that harmonize with yellow to create a well-rounded, stylish ensemble.
Here's to celebrating in style with a splash of yellow!