In the festival foods will you find the greatness of any culture. Ganesh Chaturthi is no exception. The eleven-day celebration of the elephant god Ganesh begins with welcoming the lord home on the first day, celebrating this divine guest each day and bidding his farewell on the 11th day by immersing him in water. From Staphana to Visarjan, the celebration is incomplete without delicious Ganesh Chaturthi foods. Celebrated with a range of sweet and savoury bhog or food offerings, our list includes mouth-watering delicacies, all his favourites; and ours too.
Presenting…
A list of favourite Ganesh Chaturthi foods we absolutely love, love, love.
1. Modak
Lord Ganesh loves his modaks. These steamed rice dumplings enclose a sweet filling of jaggery and coconut. Absolutely delicious!
Any Ganesh celebration absolutely needs these amazing steamed dumplings. And so do we.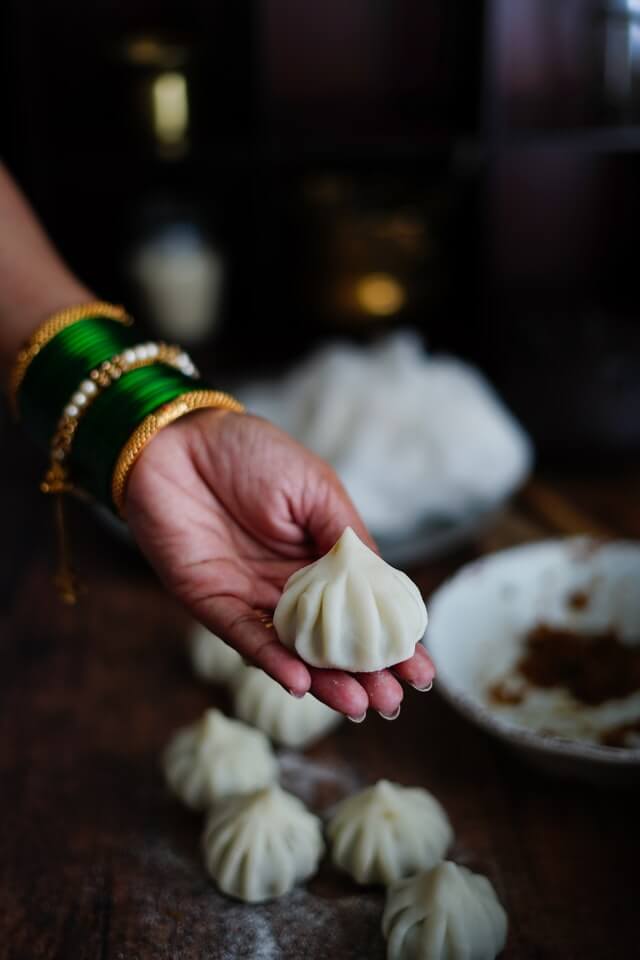 These steaming hot fluted dumplings with their pleats and folds look delicate. But are so full and bursting with the sweet flavours hidden within. We know what to expect with each modak, we can't wait to pop the next one into our mouths. And as we bite and relish the flavours exploding in our mouths, there is that satisfied smile. Just can't suppress it.
No wonder it's the lord's favourite.
There are a variety of dumplings available today ranging from chocolate to mango, strawberry, fried, dry-fruit modaks and much much more.
2. Puran Poli
A Maharashtrian classic, the Puran Poli is a popular Maharashtrian classic dish offered to Lord Ganesha during poojas. The puran or filling of jaggery, sweet lentils, saffron, cardamom and nutmeg is stuffed and rolled thin into whole wheat dough. FInally, they are cooked with ghee over a griddle until fragrant and golden brown – pure bliss!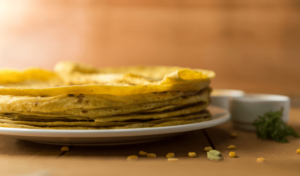 This iconic sweet paratha just melts in the mouth with the first bite. It just oozes with flavour and sublime sweetness prompting you to reach for another one. And the best part, it is really simple to make too.

3. Aluwadi
A savoury favourite, Aluwadi made with Colocasia leaves. The star ingredient is abundantly available in the monsoon. Aluwadi looks like little pinwheels which is actually a mixture of gram flour and a flavour-packed spice mix. WIth a final flavour-bomb of tempering the dish becomes absolutely finger-licking scrumptious.
4. Rishi Bhaji
Rishi Panchami is the second day of Ganesh Chaturthi. Rushichi Bhaji or Rishi Bhaji is prepared on this day. The dry curry is made with vegetables grown without the ox's labour. This low-calory savoury offering is made with leafy, root and fruit vegetables with practically no oil or fat. The only spice here is the humble green chilli.
The dish in its simplicity is delicious and represents the purity of body and soul. When cooked in earthen pots this delicacy gives a unique feeling of home with each mouthful.
5. Shrikhand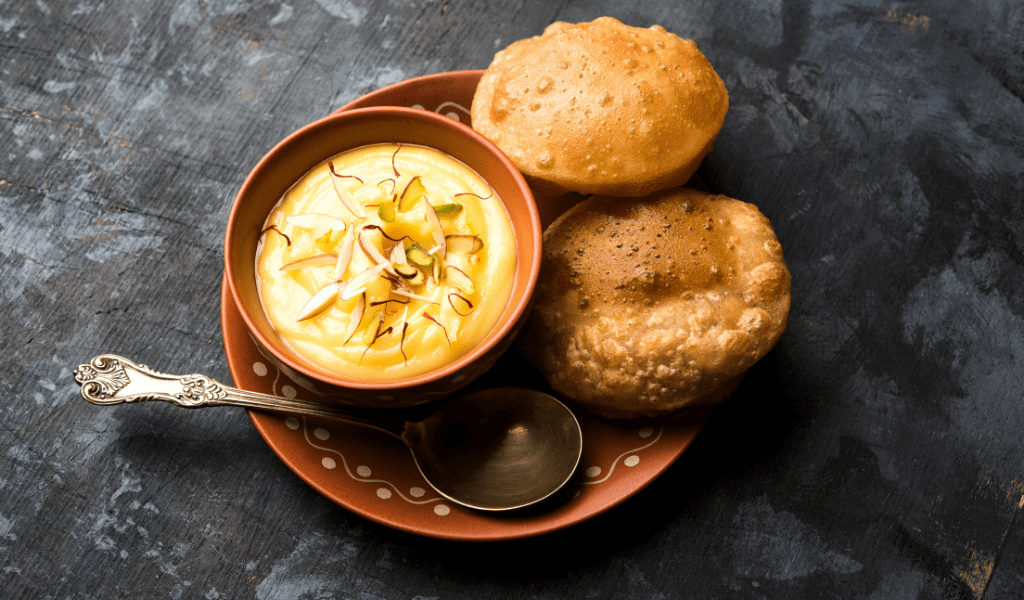 This condensed yoghurt dessert is a favourite and a staple sweet dish in the western states of India, especially Maharashtra and Gujarat. Shrikhand is made with strained yoghurt and sugar, and best enjoyed with hot poories. Along with the traditional flavours, it is available in a range of fusion flavours like butterscotch, rajbhog, cardamom saffron, chocolate orange, coconut, cinnamon apple and much more.
Shrikhand has the consistency of ice cream. This means, it melts in your mouth and not your bowl. Yum. No wonder, every happy and festive occasion is incomplete without shrikhand.
6. Sundal
A favourite prasad from south India, Sundal is a perfect savoury dish that compliments all the sweet preparations we gorge on all day.
Made with cooked lentils of choice (moong beans, Bengal gram, black-eyed peas, rajma, peanuts, black chickpeas) and a tempering, an easy to prepare and a healthy snack, no one can resist Sundal. This dish does not have any onion or garlic and is just as aromatic with coconut, curry leaves, mustard seeds and chillies.

7. Motichoor Ladoo
Ganesha loves ladoos just as much as he loves modaks. Any image of Ganesh is accompanied by a ladoo. The story goes that as Lord Ganesha was growing up we became obsessed with laddoos and he couldn't satiate his hunger without some delicious laddoos. Therefore, they are always around in case he needs them. This also holds a spiritual message: we too must discover the sweetness within our souls.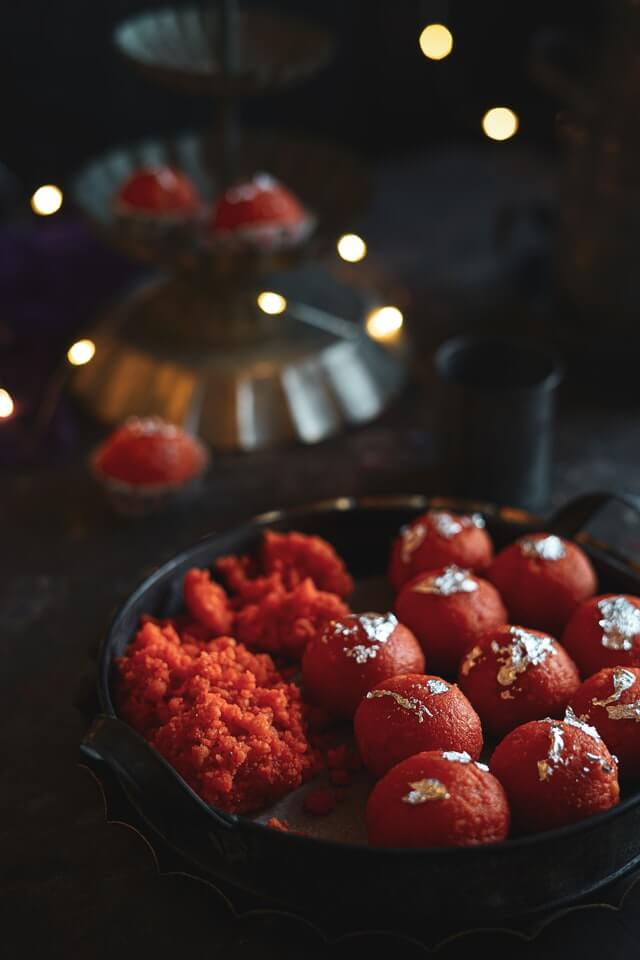 We too love to offer and have Motichoor Ladoos – a saffron-infused sweet made with tiny bright orange boondi balls brought together to form a glorious orb of deliciousness. Who knew you could hold a piece of heaven in your hands?
8. Churma Ladoo
Primarily made of flour, fat and jaggery churma ladoos invoke a lot of fond memories of childhood and festive celebrations. The raw ingredients are deep-fried, made into a churma or ground coarsely and brought together with jaggery into ball-shaped delights. This dish can be enhanced with coconut and sesame seeds.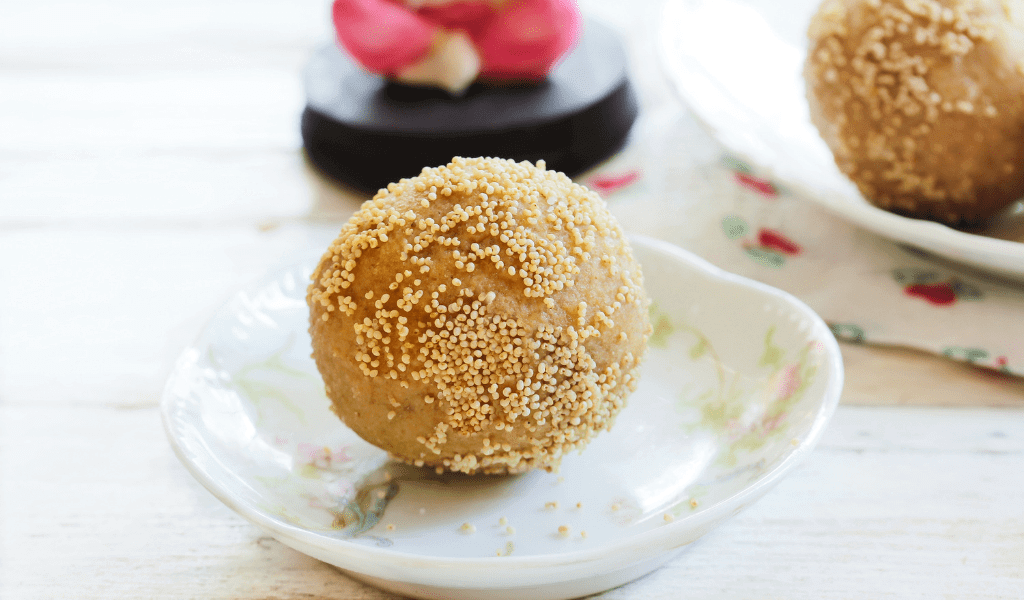 Have you ever wondered why there are so many varieties of ladoos in India? Considered a symbol of good luck in ancient times, especially during wars and long journeys, it is not surprising that ladoos have a special place in festive celebrations, our stomachs and our hearts.
9. Varan Bhat and Tendli Bhat
In simplicity lies sophistication. Thus, Varan Bhat and Tendli Bhat are both our favourites.
The literal translation of Varan Bhat is lentil rice. Served as a naivedyam or bhog during Ganesh pooja, this dish is not only simple to make but also a staple in many households. The simplicity of a daal-rice reflects the simplicity of Lord Ganesha's devotees, making them dear to the lord. Best enjoyed hot and topped with some ghee.
Tendli Bhat, also known as Kovakai Rice, is a deliciously spiced ivy gourd rice popular in Maharashtrian cuisine. Tendli, tindora, tondli or the humble ivy gourd, is a small wonder because it is not only easily available but also packed with several health benefits. Enjoyed best with raita and pickle on the side, this spiced aromatic one-pot preparation is simply the best. No wonder this is among the favourite foods of Lord Ganesha.
10. Parappu Payasam
Creamy, rich, delicious Parappu Payasam made with mung lentils, coconut milk and jaggery. The richness in taste and texture just elevates the experience of having this heavenly liquid. And has us going for second helpings.
This lovely dessert enjoyed on every special occasion, tastes especially delicious during festivals. There are a variety of payasams like pineapple, carrot, semiya, aval and so on. But our all time favourite has to be the Parappu Payasam.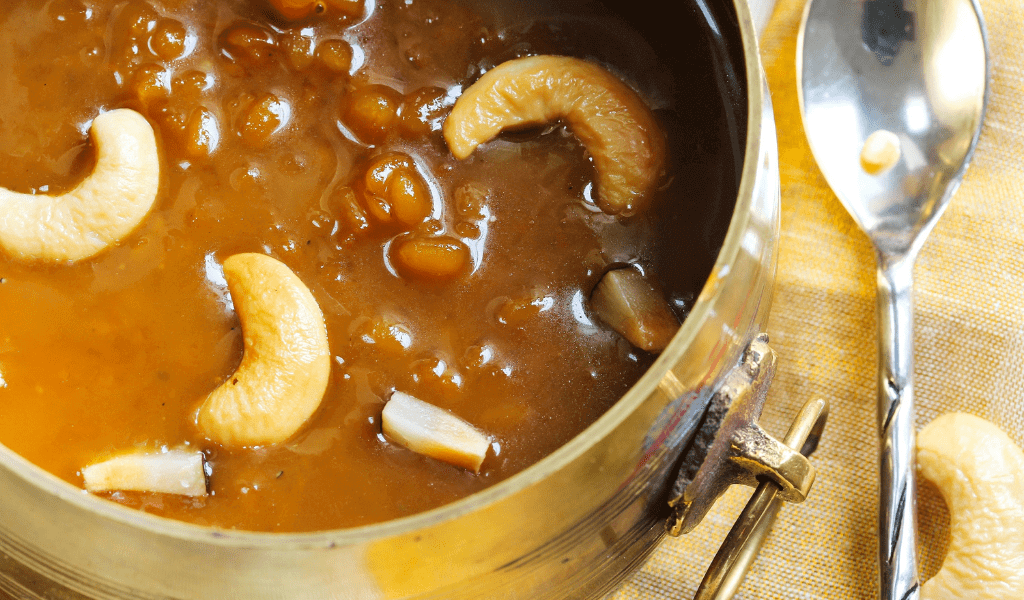 OKAY! We are hungry for some Ganesh Chaturthi Foods.
Our mouths are watering and our taste buds are ready to receive all the flavorful Feel Good sweet and savoury dishes Ganesh Chaturthi has to offer.
Food is the great uniter that strengthens our cultural bonds, and most importantly, helps us identify with each other as a community. In preparing, offering and enjoying food together, we celebrate our love and share our happiness with one another. And this is the true meaning of any festival.
What are your favourite Ganesh Chaturthi foods? We welcome your comments below.