Winter is here! No, it's not a new series to watch. But the actual season of sweaters, hot chais and Maggi noodles. And of course, a memorable winter vacation.
As we welcome the cooler weather as a break from the intense summer heat and the monsoon humidity, we look for reasons to step out and enjoy this lovely season outdoors. And we can't think of a better way to enjoy the wonderful Indian winters than to go on a most needed feel-good winter vacation.
Presenting: The Top 7 Destinations for a Memorable Winter Vacation
India, as diverse as she is, is super popular for her abundance of beautiful and culturally rich places. Experiencing each one is an adventure of its own. From the majestic snow-capped mountains to the pristine beaches, the vibrant city to the jungles that give you Mowgli vibes – India is a traveller's paradise.
The winters are the best time to explore this wonderful country and take in the picturesque views along with the vibrant culture.
So if you are considering a trip to Indian destinations, you really should check out the locations mentioned below. We've touched all of our favourites, from trekking trails to seashore to cities. Just pick a place from of list of winter vacation spots and make some wonderful feel-good memories for a lifetime.
1. Manali – A Backpacker's Paradise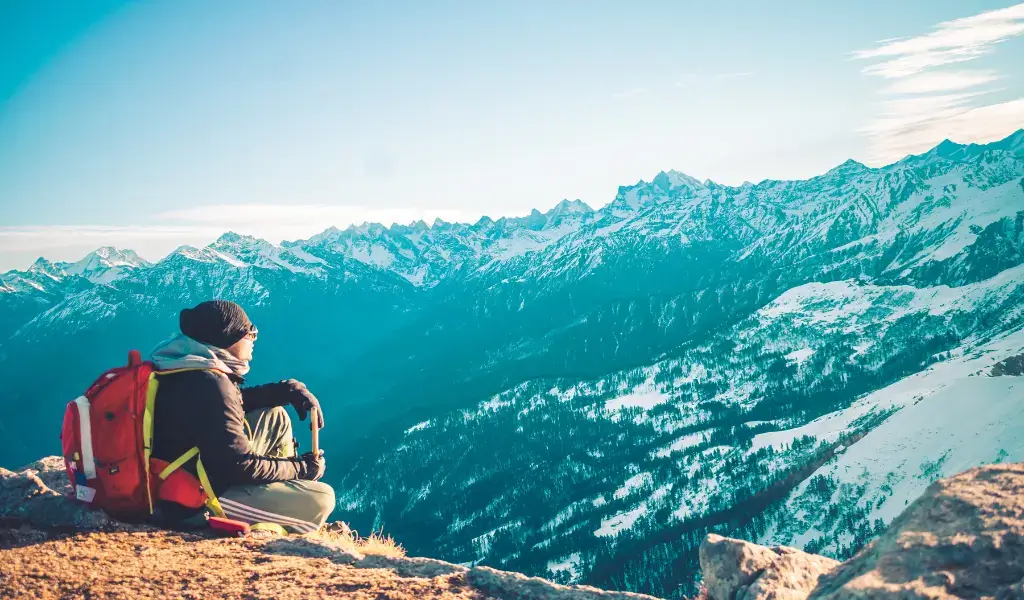 Manali is a Himalayan resort town surrounded by mountains and friendly people. It is one of our top favourite vacation spots. The snow-powdered mountains, the lush greenery, beautiful flowers and just the mountain air make a wonderful combination. All adventure enthusiasts assemble at this spellbound place to enjoy an exhilarating winter.
Activities to enjoy:
Glide through the air and take in the beauty of this winter wonderland in the Solang Valley.
Enjoy nature's bliss in Old Manali with traditional temples, modern cafes, and water rappelling.
Visit Mall Road to shop when the snow falls for a memorable experience.
Rohtang Pass is closed during winter. But you can still enjoy skiing, paragliding and other winter snow activities at Gulaba Village
Go trekking and camping at Hampta Pass, a small corridor in the Pir Panjal mountain range where one can enjoy the lush mountains of Kullu and the cold desert of Lahaul.
Check out the hot springs in Vashisht Kund
Enjoy the Winter Carnival festival in January.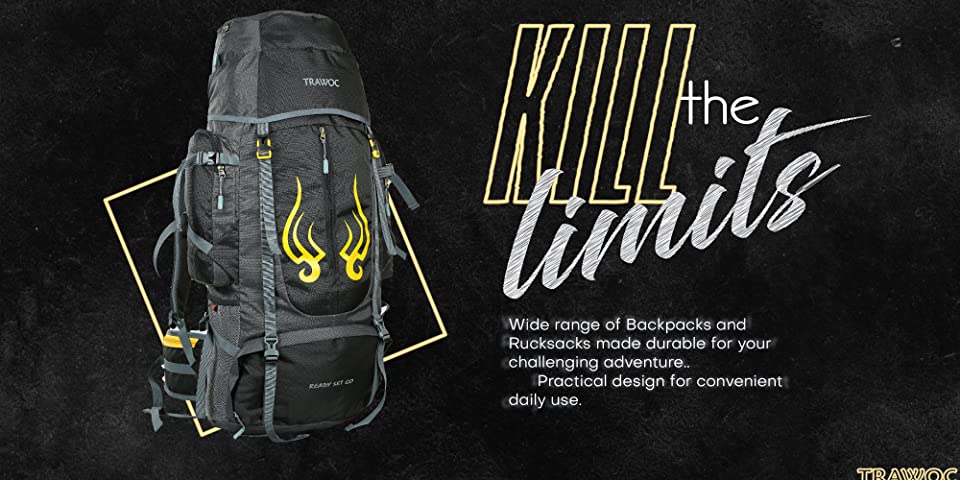 2. Goa – Beach. Party. Eat. Repeat.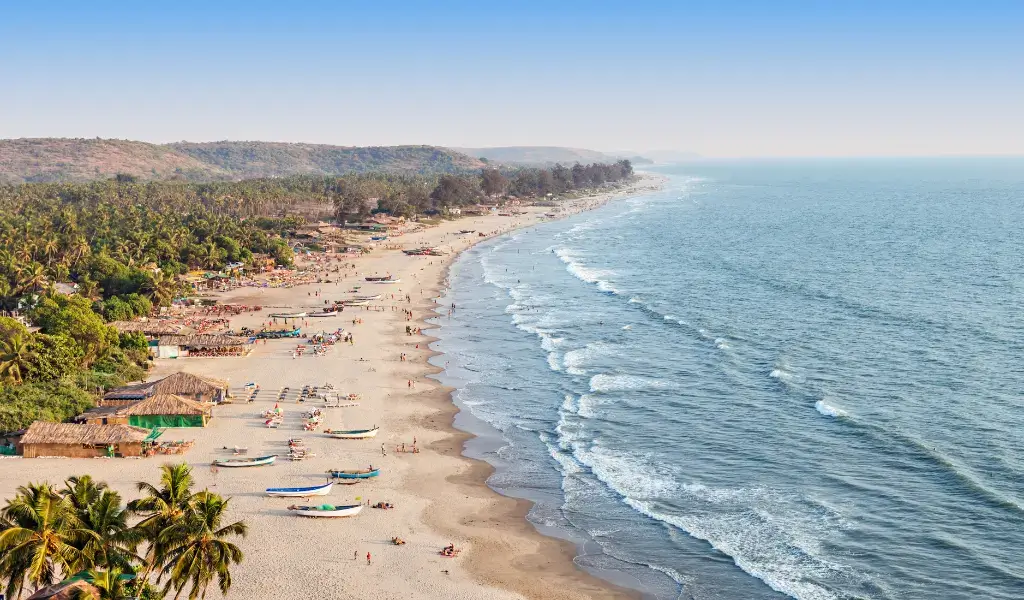 No introduction is needed for the beach paradise of India – Goa. Any day is a good day for Goa, especially winter to escape the cold. A party lover's central, you can enjoy the beaches, the old Goa charm of Portuguese and Konkan architecture, the delicious Goan cuisine and any of the creative parties that happen daily.
Enjoy the electrifying nightlife, panoramic views, and serenity.
Activities to enjoy:
Enjoy retail therapy at Arpora's Saturday Night market. You can shop literally all night long while enjoying finger-licking seafood, street DJs, live bands and more.
Have fun with watersports activities like jet skiing, flyboarding, kayaking, windsurfing, and parasailing at Dona Paula bay or Cidade De Goa
Visit the Salim Ali bird sanctuary, a hidden gem where you can see rare birds, beautiful churches and Portuguese homes.
Experience the electrifying nightlife in the many clubs, shacks, bars and even beaches.
The casino boats on the River Mandovi are a must-visit to indulge in lavish excitement.
Christmas and New Year's Eve are the best times to visit. Enjoy the celebrations with midnight masses, cakes and puddings, the delicious Christmas dinner and the spectacular Goa Carnival.
Rock it out at the Sunburn festival 2022, the ultimate party scene.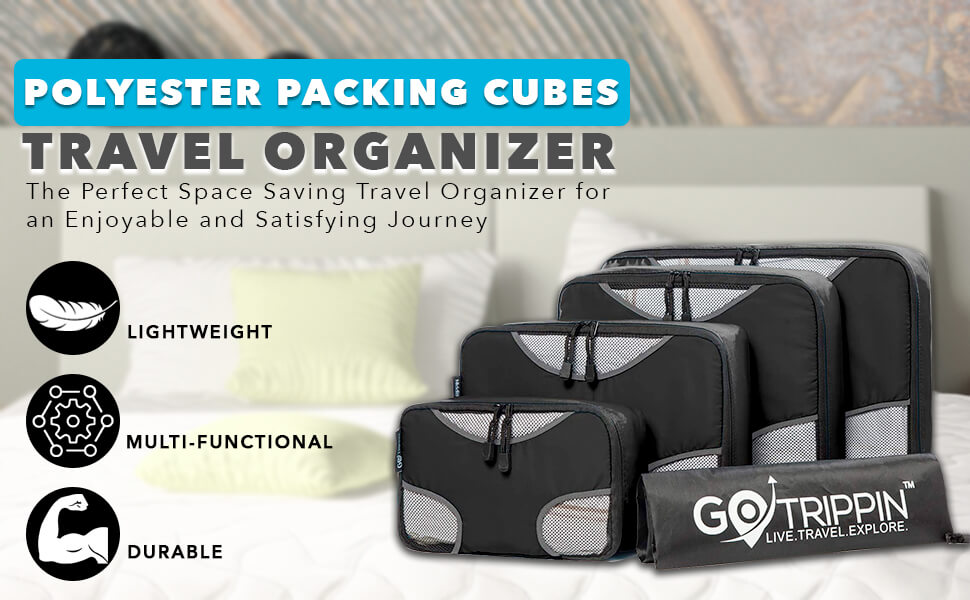 3. Alleppey – Welcome to Venice of the East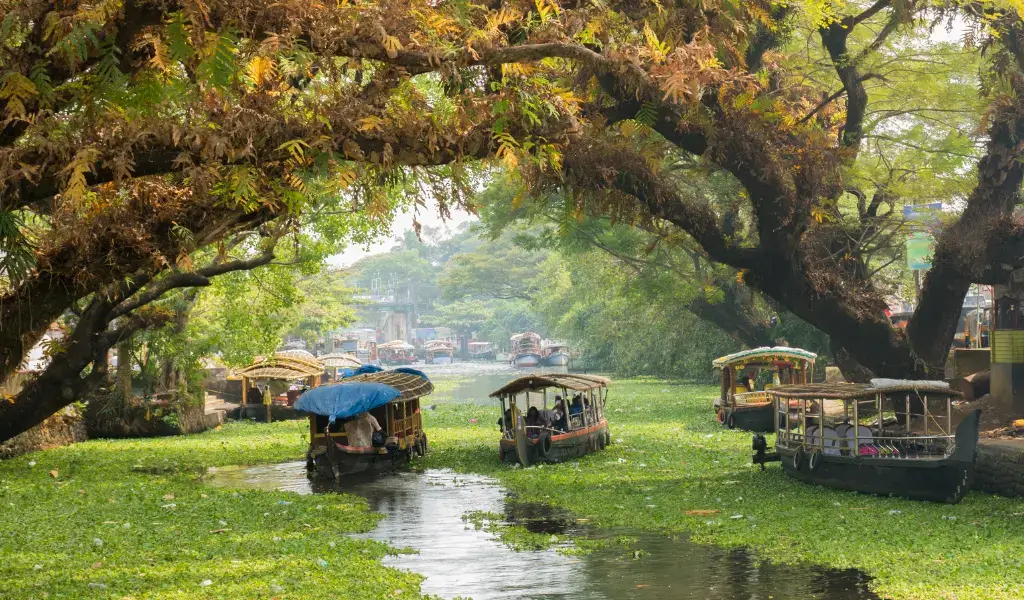 Alleppey is a beautiful destination located in God's own country, Kerala. Best known for its houseboat cruises along the rustic backwaters, you can experience calm in the network of tranquil canals and lagoons. Isn't that a great way to spend a winter break?
Located on the Malabar Coast, Alleppey is a picturesque palm-fringed coastal delight and a great place to take a break with family or friends. With plenty of houseboats, homestays and resorts, visit Venice of the East. Now that's a perfect destination for a winter vacation.
Activities to enjoy:
Experience the village life, the Heritage Agricultural System and coconut-lined paddy fields at Kuttanad.
Rejuvenate from your urban cares with Ayurvedic massages, yoga, and meditation.
Catch the sunset at the Alappuzha beach. Enjoy the quaint lighthouse and gram your pictures of the 137-year-old pier.
Go kayaking and enjoy nature activities like birdwatching.
Enjoy shopping for souvenirs at the Zackaria Bazar. Add spices and traditional handicrafts to your shopping list.
Relish the payasam (sweet milk porridge) served during aarti time at the Ambalapuzha Temple
Go for a picnic at Marari beach or Pozhiyoram Beach.
Visit the floating market for a delightful boating and shopping experience at the floating Triveni near Vembanad Lake.
Try your hand at coir making when you visit the International Coir Museum and learn all about coir weaving when you visit the Coir Weaving Factory
Check out the crystal collection at the Revi Karunakaran Museum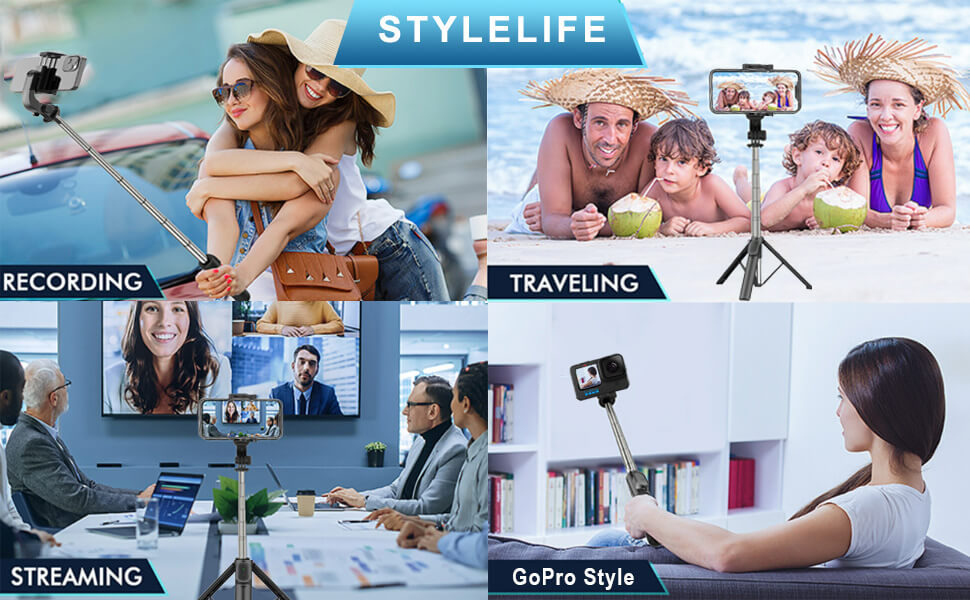 4. Rajasthan – Much More Than Just a Desert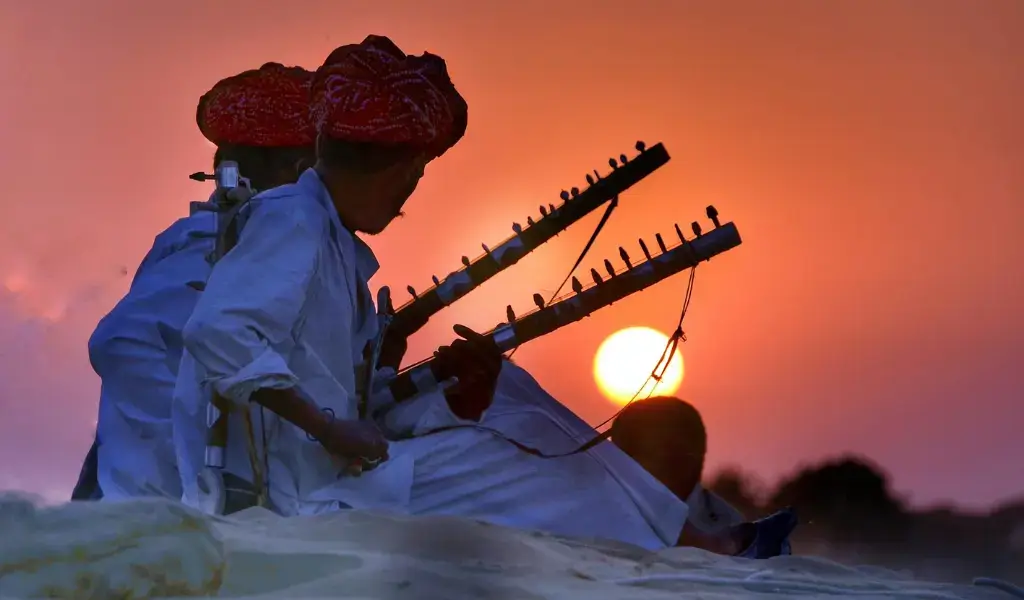 India truly has it all from snowy peaks to lush forests and the desert state of Rajasthan. The charm of Rajasthan is hidden from no one. It calls to all explorer-slash-adventurers at heart with its bohemian charm.
The dunes, sunsets, and majestic royalty of the forts and palaces that is the Thar Desert in Rajasthan are a must-visit in any season. But winter is coming and off we head to Rajasthan. Jaipur, Rajasthan's capital city, a.k.a. Pink City is a renowned tourist destination in India. The Hawa Mahal, City Palace, and Amber Fort are major tourist attractions. Besides Jaipur, there are Jaiselmer, Udaipur, Pushkar, Mount Abu and many more destinations to explore in the desert state of India.
Activities to enjoy:
Float in the sky in hot-air balloons available in Jaipur, Pushkar and Ranthambore
Witness the majestic wildlife of Rajasthan at wildlife sanctuaries – Ranthambore National Park, Keoladeo National Park, Sariska Tiger Reserve or Bharatpur Bird Sanctuary.
What better way to see the Neemrana fort than via zipline? A must-do activity close to Udaipur.
Feel the thrill of desert camping, the perfect activity best enjoyed in winter.
Taste the flavours of Rajasthan with Chokhi Dhani, synonymous with royal hospitality.
Car lovers assemble; at the vintage car rally that happens in January
Admire the stunning intricate architecture of Abhaneri Step Well or Chand Baori near Jaipur.
Indulge in some adventure with dune bashing; an extreme sport of driving an SUV in the desert.
Enjoy a camel safari; ride on the ships of the desert into the sunsets.
The sand coupled with traditional folk songs and dances performed by the Kalbeliya tribe is a hypnotizing experience that must not be missed.
5. Nainital – A Slice of Heaven on Earth, Right Here in India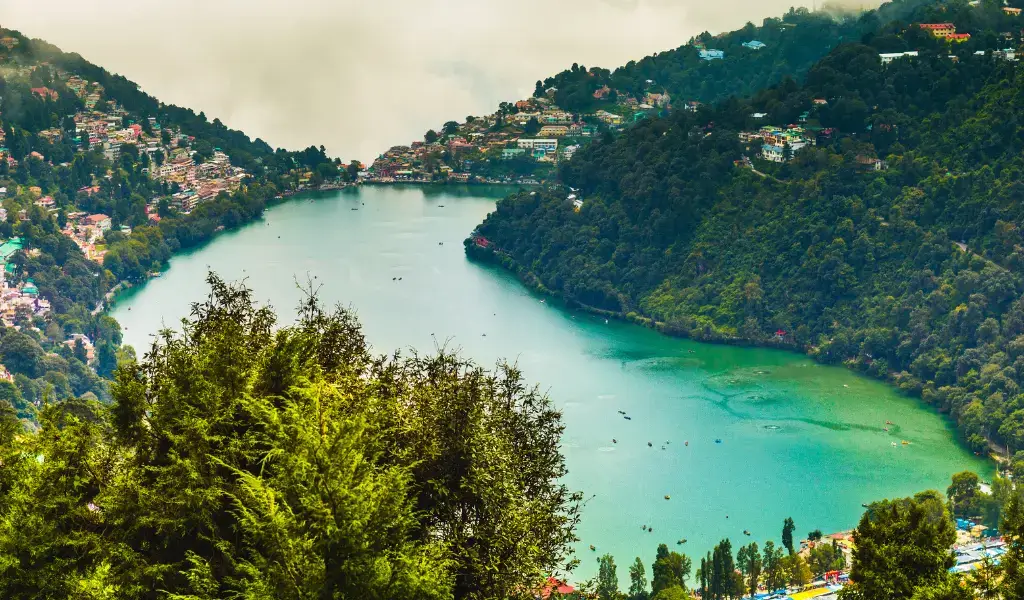 Everything that we read, hear or know about Nainital is true and more. A gorgeous north Indian hill station with the Naini Lake is cosily nestled between mountains in the Kumaon region of Uttarakhand state. Popular for the Naini Devi temple on the banks of the lake and picturesque boating, Nainital epitomises incredible landscapes with a romantic aura. Chill cafes, Mall Road, and the nearby sister hill station Naukuchiatal are among the popular weekend destinations for visitors.
Activities to enjoy:
The most popular tourist thing to do is go boating in Naini Lake.
Trek to the highest peak in Nainital – Cheena Peak. If the weather is clear, you can also see the distant Himalayan range.
Take in the panoramic beauty of the hill station and the Himalayan mountains from Tiffin Top, also known as Dorothy Peak.
Go for a stroll on Mall Road and pick us a few souvenirs too as this is a beautiful shopping destination.
Picnic and relax at the Eco Cave Gardens; a series of seven caves that can be reached via a winding road.
6. Darjeeling – Home of the Champagne of Teas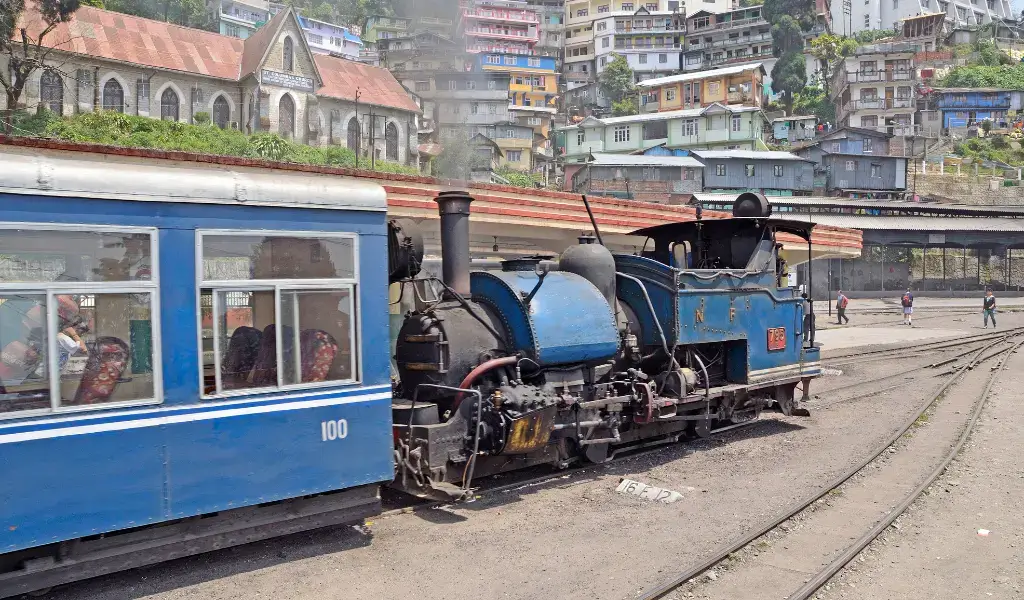 Famous for more than just its emerald green tea plantations, Darjeeling is one of the top tourist destinations in India thanks to its breathtaking landscape, magnificent sunrises, and one of the world's highest peaks, the glorious Mount Kanchenjunga.
Located 2,050 metres above sea level, this hill station is surrounded by lovely tea plantations on mountain slopes, the 140-year-old Darjeeling Himalayan Railway, colonial architecture and Tibetan monasteries. Darjeeling embraces all visitors with its natural beauty, wonderful culture and friendly people.
Activities to enjoy:
Partake in the two major festivals that take place in winter: The Teesta Tea & Tourism Festival when the landscapes turn into a colourful fair, and the Darjeeling Orange Festival when many villagers from far and near sell fresh produce.
Go on a trekking adventure in this winter dreamland.
Take in the beautiful sunrises and sunsets from Tiger Hill
Discover beautiful Buddhist monasteries that have a huge Tibetan influence.
Indulge in the local cuisine, there is something about the mountain air that makes simple meals taste super delicious and wholesome.
Take a joy ride on the toy train that will give you a quaint experience of delightful sightseeing.
Get an adrenaline rush when you go river rafting in the Teesta River
Go on a 45-minute cable car ride, we can't think of a better way to take in the landscape other than the ropeway that can take you up to an altitude of 7,000 feet.
Visit the Happy Valley tea estate; the emerald green slopes are something that cannot be missed.
Meet the majestic Himalayan Wolf, an endangered species, at the Padmaja Naidu Himalayan Zoological Park. You will also get to see the rare Himalayan snow leopards, Tibetan wolves, red pandas and much more.

7. Ooty – Where Nature is the Artist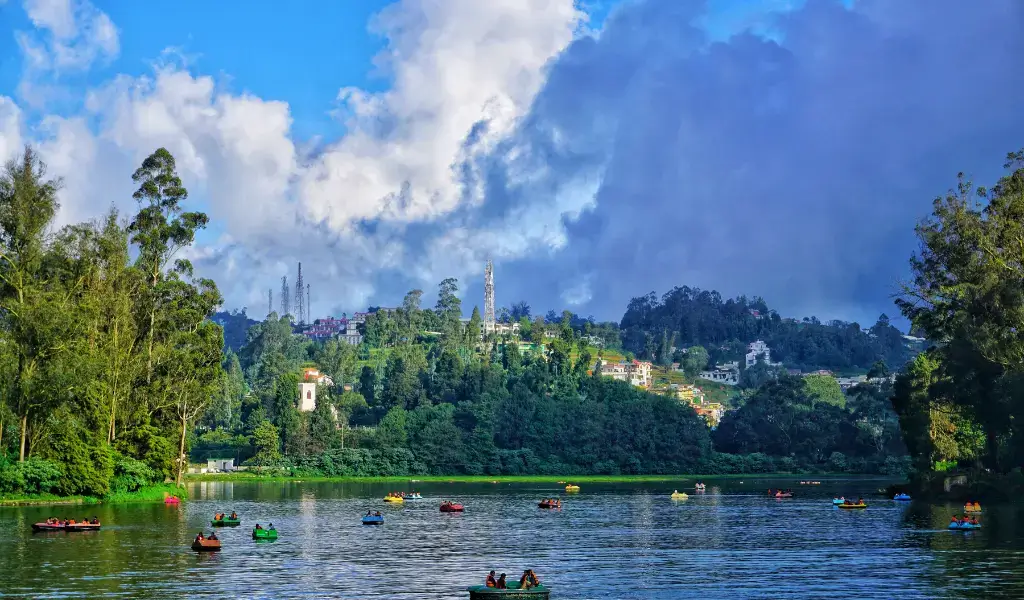 Last on our list of winter vacation spots, and in no way the least is Ooty. Also known as Udhagamandalam, this hill station is in the southern Indian state of Tamil Nadu. The pleasant climate, tranquil environment and beautiful gardens make it an ideal vacation destination for solo travellers, couples, families and friends. Located on the Nilgiri mountains, this stunning hill station is known for its lush meadows, famous eucalyptus forest, chocolate tea and yummy Ooty cheese.
Activities to enjoy:
Visit the Botanical Garden, a 55-acre meticulously landscaped garden that is home to a variety of exotic and native plants and trees. The flowers are sure to blow your mind away.
A must-visit for the romantic at heart, the gardening fanatic or the nature lover; the Rose Garden boasts more than 3000 varieties of roses.
Go boating in the emerald green waters of Ooty Lake with the picturesque Nilgiris around you.
Tea is a quintessential Indian beverage in cold weather, and as any tea lover should, visit the Tea Museum to taste some amazing brews.
Visit the Wax Museum and Thunder World where you can see wax statues and dinosaur installations; a great day out for adults and kids alike.
Deer Park is not very far and has many species of Indian deer.
Check out over 1,000 miniature models of famous cars like Jaguar, Ferrari, Lamborghini and many more at the Miniature Car Museum.
Visit any of the roaring waterfalls and calm lakes that dot this beautiful hill station.
One of the oldest buildings from the colonial era, the Stone House has several artefacts, tools and weapons used by natives in ancient times. A great place for history buffs.
Another thing to check out in Ooty is the traditional Toda Huts, the dwelling of the ancient tribal community, the Toda.
And there you have it! A List of our Favourite Winter Holiday Destinations
All we know is that cold weather and all these lovely winter vacation spots have got us into the mood to travel. So, let's plan a vacation and pack our bags for a memorable, feel-good winter vacation; positive vibes and memorable experiences with all our energies totally recharged.
What are you waiting for? Plan the perfect vacation and tell us where you will be headed this winter in the comment section below.