As a travel enthusiast, my bags are almost always packed and ready for the next getaway! So, when a long weekend is around the corner, my excitement doubles at the prospect of an extended trip. After all, who wouldn't want to spend more time in the arms of a stress-free monsoon getaway? What makes the upcoming long weekend special is that it falls on a cherished festival, Ganesh Chaturthi.
A time for family celebrations and for near and dear ones to gather together and partake in festivities is made all the more special when travel is in the picture. And I know that you want in on the fun too. After all, what better sign than a long weekend to go on a much-deserved feel-good break?
So, what are the top 10 places to consider for a long weekend escape during the Ganesh Chaturthi break?
Here's a curated list of destinations across India that promise to make your long weekend memorable: As we relish the gentle monsoon showers and dive head-first into Indian autumn, it's the perfect time to plan your escape. If you want to explore 10 weekend getaways in Maharashtra, we got you covered with a list of perfect destinations for a short break.
Let's explore 10 enchanting destinations, teeming with lush greenery and tranquillity, for perfect long weekend getaways in the monsoon during Ganesh Chaturthi Break 2023.
1. Chikmagalur, Karnataka, is a Coffee Paradise in the Western Ghats
Nestled amidst the Western Ghats, Chikmagalur is a picturesque destination renowned for its coffee plantations, serene hills, and lush greenery. During the monsoon, this region comes alive with vibrant shades of green and offers a tranquil escape.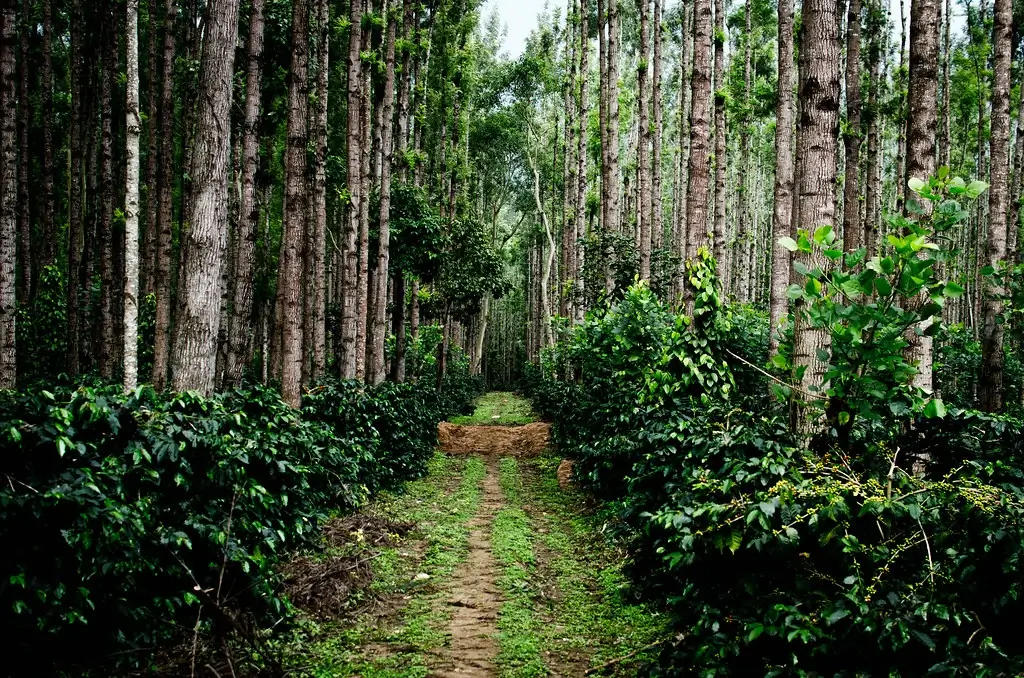 The Best Activities to Do in Chikmagalur:
Explore the coffee estates of Chikmagalur and learn about the coffee-making process. Several plantations offer paid services, including guided tours and coffee tastings.
Hike to Mullayanagiri Peak, the highest peak in Karnataka, for panoramic views of the mist-covered hills.
Visit the Baba Budangiri Hills to witness the unique formation of the Manikyadhara Falls and the ancient Dattatreya Peetha.
Must-Try Dishes in Chikmagalur:
Indulge in local Malnad cuisine, which includes dishes like Akki Roti (rice flatbread), Kadubu (steamed rice dumplings), and the famous filter coffee, all best enjoyed at traditional Malnad homestays.
2. Wayanad, Kerala: God's Own Rainforest
Wayanad, with its enchanting landscapes and misty mountains, is a treasure trove of natural beauty. During the monsoon, the hills are swathed in shades of emerald, and the aroma of spices hangs in the air.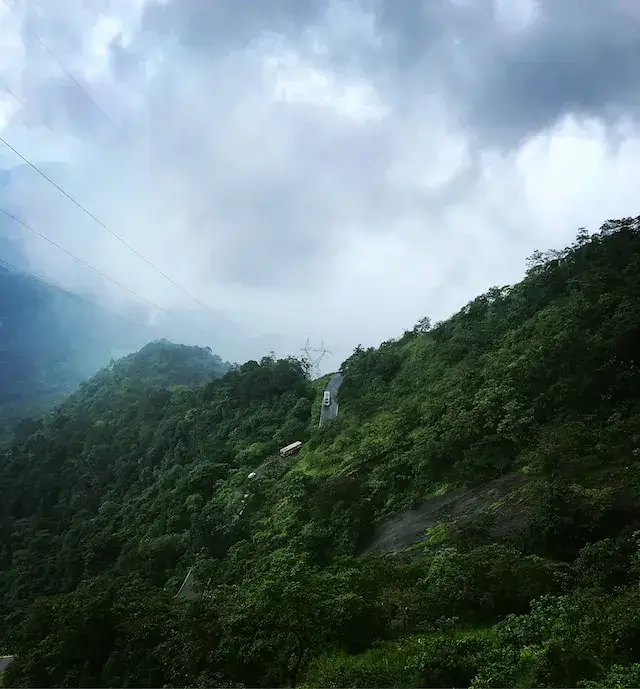 The Best Activities to Do in Wayanad:
Embark on a trek to Chembra Peak, where you'll find a heart-shaped lake at the top.
Take a nature walk in the Tholpetty Wildlife Sanctuary to spot exotic wildlife.
Visit the Edakkal Caves to uncover ancient history.
Must-Try Dishes in Wayanad:
Don't miss trying Wayanad's unique Bamboo Biriyani, prepared by slow-cooking marinated meat and rice inside bamboo stems, and finishing your meal with a creamy Payasam dessert.
3. Munnar, Kerala: Tea Gardens and Tranquility
Munnar, another gem in God's Own Country, is famed for its tea plantations and cool climate. When the monsoon arrives, Munnar's hillsides are adorned with vibrant blossoms, while raindrops cling to the tea leaves, glistening like diamonds in the morning sun. Munnar is an ideal destination for families and is a tranquil escape during the school holidays.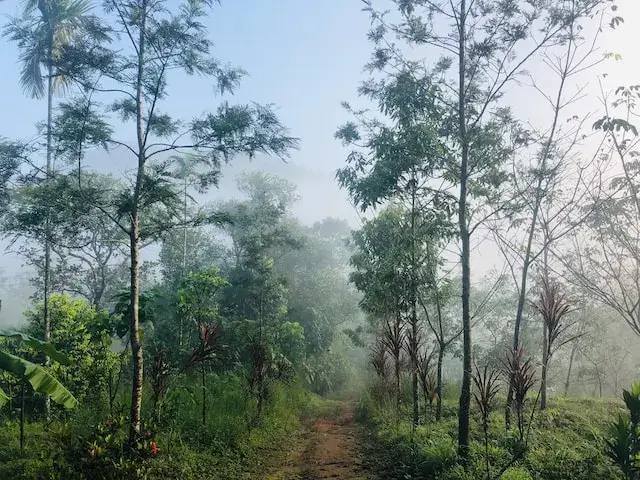 The Best Activities to Do in Munnar:
Visit the Kolukkumalai Tea Estate, the highest tea plantation in the world, and savour freshly brewed tea.
Visit the Tea Museum and stroll through the aromatic tea gardens.
Spot the endangered Nilgiri Tahr when you visit the Eravikulam National Park
Take a boat ride on the serene Kundala Lake.
Must-Try Dishes in Munnar:
Sample Kerala's iconic Sadya, a traditional vegetarian feast served on banana leaves, and don't forget to try the sweet, flaky Kerala Parotta.
4. Darjeeling, West Bengal, The Queen of Hills
Darjeeling, with its panoramic views of the Himalayas, is an evergreen favourite. While the monsoon brings occasional showers, it's also the time when the hills are washed clean, offering breathtaking vistas. The hills wear a fresh coat of green, and the cloudy skies create a dramatic backdrop.
The Best Activities to Do in Darjeeling:
Take a ride on the Darjeeling Himalayan Railway, often called the "Toy Train," for a nostalgic journey through the misty mountains
Visit the Peace Pagoda for serene views of the surrounding landscape
Visit the Padmaja Naidu Himalayan Zoological Park
Must-Try Dishes in Darjeeling:
Sip on a warm and comforting cup of Darjeeling tea while enjoying Tibetan momos and thukpa from the local stalls.
5. Cherrapunji, Meghalaya: The Wettest Place on Earth
Cherrapunji, known for its relentless rainfall, is a unique monsoon destination. During the Ganesh Chaturthi break, the rains here are relatively calm, allowing you to explore this green wonderland.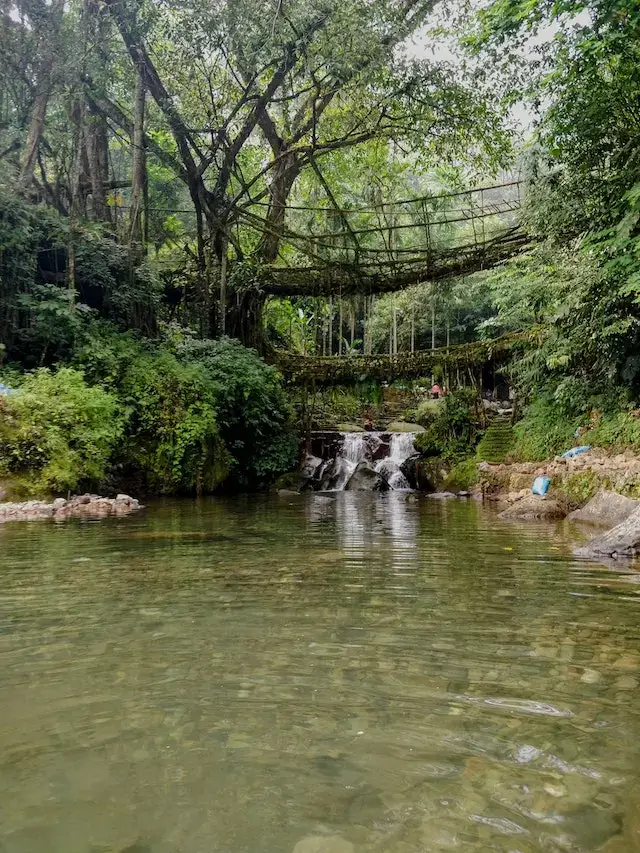 The Best Activities to Do in Cherrapunji:
Hike to the Nohkalikai Falls viewpoint, offering breathtaking vistas of the tallest plunge waterfall in India
Explore the fascinating Mawsmai Cave and its intricate limestone formations
Marvel at the sight of the living root bridges of Nongriat
Must-Try Dishes in Cherrapunji:
Relish the local Khasi cuisine, including dishes like Jadoh (rice and meat), Tungrymbai (fermented soybean), and Kappa (tapioca).
6. Rishikesh, Uttarakhand: A Spiritual Sojourn
Rishikesh, the yoga capital of the world, offers a serene escape during the monsoon. The Ganges gushes with renewed vigour, and the lush forests rejuvenate.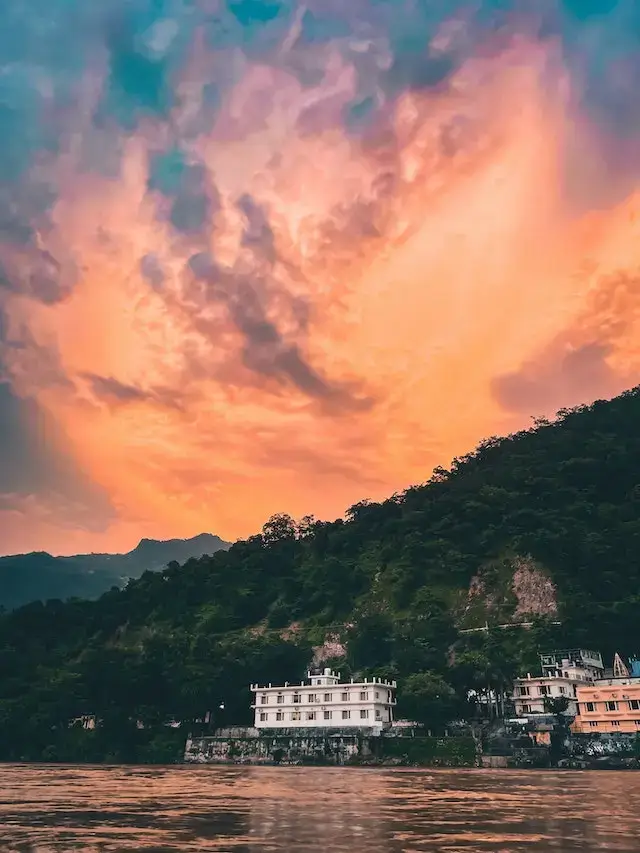 The Best Activities to Do in Rishikesh:
Attend a yoga session by the river for inner peace.
Try white-water rafting for an adrenaline rush.
Visit the iconic Laxman Jhula and Triveni Ghat for a spiritual experience.
Must-Try Dishes in Rishikesh:
Sample traditional North Indian cuisine at local eateries, including Dal Makhani, Paneer Tikka, and freshly baked Naan.
7. Kodaikanal, Tamil Nadu: The Princess of Hill Stations
Nestled in the Palani Hills, Kodaikanal is a paradise for families seeking a monsoon getaway. The misty landscapes, serene lakes, and lush parks make it perfect for children.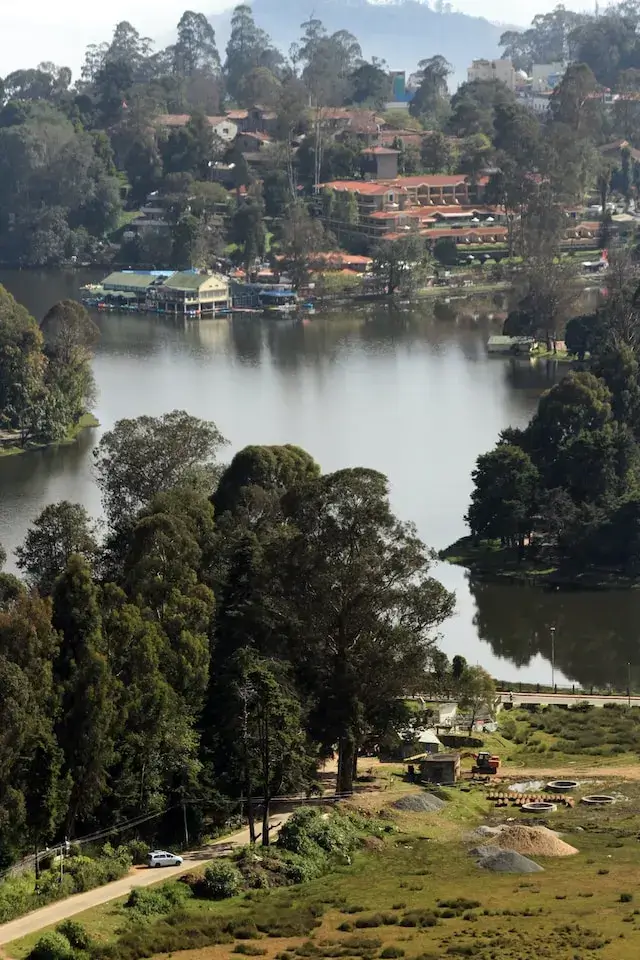 The Best Activities to Do in Kodaikanal:
Enjoy a boat ride on the serene Kodai Lake, surrounded by scenic beauty.
Take a leisurely stroll through Coaker's Walk for stunning panoramic views.
Explore Bear Shola Falls, a hidden gem.
Visit the scenic and natural wonders that are the Pillar Rocks.
Must-Try Dishes in Kodaikanal:
Delight in local Tamil cuisine, including dishes like Chettinad Chicken Curry and a variety of dosas.
8. Panchgani, Maharashtra: Table Land and Beyond
Panchgani, perched atop the Sahyadri Range, is a serene hill station and a lesser-known gem. The monsoon paints this town in lush shades, making it an inviting destination.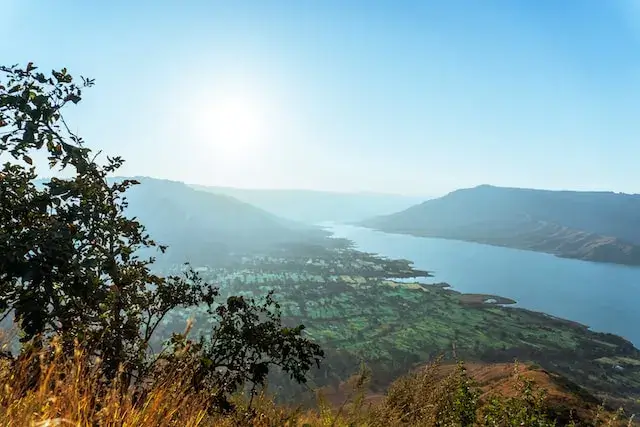 The Best Activities to Do in Panchgani:
Visit Table Land, a vast volcanic plateau, and enjoy horseback riding with a backdrop of misty hills.
Try paragliding for a thrilling experience.
Explore Sydney Point.
Must-Try Dishes in Panchgani:
Savour local Maharashtrian delicacies like Vada Pav, Misal Pav, and Puran Poli.
9. Goa: Monsoon Magic by the Beach
Goa, known for its vibrant nightlife, reveals a different charm during the monsoon. The beaches, now devoid of crowds, are tranquil. The lush green fields and swaying palms are a testament to Goa's natural beauty. It makes for an ideal destination for families during the school holidays.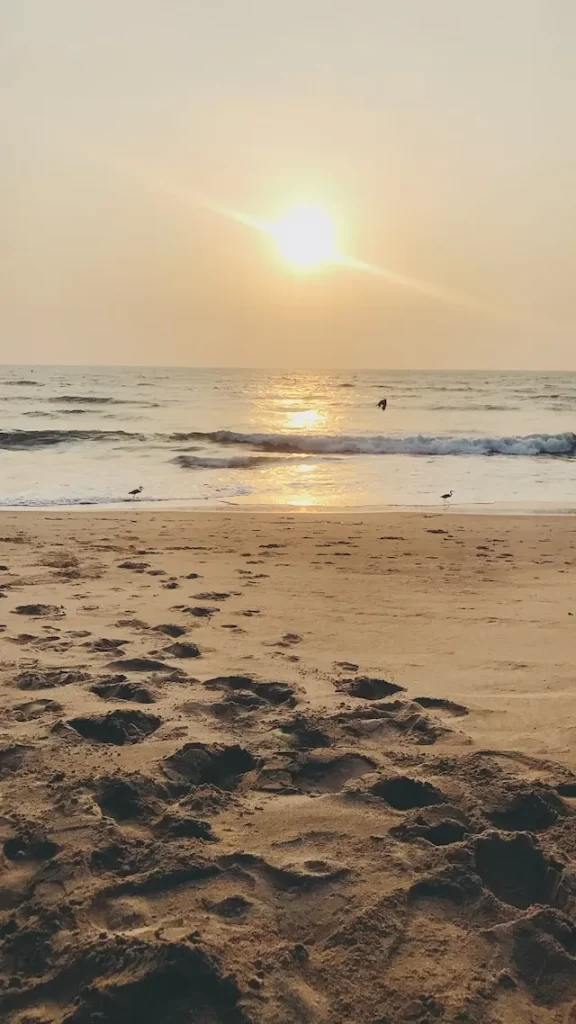 The Best Activities to Do in Goa:
Get your history fix by visiting the Aguada Fort and Chapora Fort.
Indulge in water sports like parasailing and jet-skiing.
Explore Velha Goa's (old Goa) churches and monuments.
Stroll through the vibrant streets of Fontainhas, the old Latin quarter in Panjim.
Must-Try Dishes in Goa:
Relish Goan seafood specialities such as Fish Curry Rice, Rava Fried Fish, and Bebinca, a traditional Goan dessert.
10. Ooty, Tamil Nadu: The Queen of Nilgiris
Ooty, surrounded by the Nilgiri Hills, is a classic choice for a monsoon escape. The gardens and lakes come alive with rain, offering a serene atmosphere.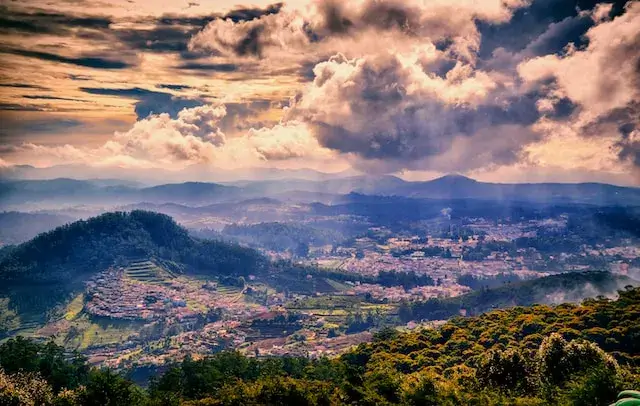 The Best Activities to Do in Ooty:
Experience a train ride on the Nilgiri Mountain Railway, a UNESCO World Heritage Site.
Visit the stunning Botanical Gardens, home to a mesmerizing array of flora.
Relax with a boat ride on Ooty Lake.
Must-Try Dishes in Ooty:
Sample Nilgiri cuisine, including dishes like Ooty Varkey (a baked snack) and a variety of homemade chocolates.
Monsoon Travel Ideas with School Holidays
Here are some tips to plan and execute an enjoyable travel experience for the entire family: refreshing breaks during the monsoon are for all, are they not?
Choose Family-Friendly Destinations: Opt for destinations that cater to family travellers, with activities and attractions suitable for children of all ages.
Check Weather Forecasts: Keep an eye on weather forecasts for your chosen destination. While monsoons can be a refreshing experience, it's essential to be prepared for rain and plan accordingly.
Pack Appropriately: Pack rain gear, including umbrellas, raincoats, and waterproof footwear, to ensure you stay dry and comfortable during your travels.
Indoor Activities: Plan a mix of outdoor and indoor activities to accommodate rainy days. Museums, art galleries, and indoor play areas can provide entertainment during wet weather.
Wildlife Sanctuaries: Monsoons can be an excellent time to visit wildlife sanctuaries and national parks, as the lush greenery attracts a variety of wildlife. Safaris and nature walks can be exciting for kids.
Cultural Experiences: Explore the local culture and traditions of the destination. Participate in local festivals, visit temples, and interact with the locals to learn about their way of life.
Educational Opportunities: Use the travel experience as an educational opportunity for children. Teach them about the environment, geography, and history of the place you're visiting.
Plan Ahead: Make advance bookings for accommodations and popular attractions, especially during school holidays when places can get crowded.
Health and Safety: Ensure you have any necessary vaccinations or health precautions in place, as monsoon travel may involve exposure to different environments and conditions.
Enjoy Local Cuisine: Savor the local cuisine of the region you're visiting. Encourage kids to try new dishes and flavours to enhance their cultural experience.
Stay Connected: Have a reliable means of communication, such as a mobile phone or portable Wi-Fi device, to stay connected in case of emergencies or to research local attractions on the go.
Flexible Itinerary: Keep your travel itinerary flexible to account for changes in weather. Having alternative plans or activities in mind can help you make the most of your trip, regardless of the conditions.
Monsoon travel can be a unique and rewarding experience, providing opportunities for memorable family adventures and a chance to witness the natural beauty of a region at its lushest.
Wrapping Up
The Ganesh Chaturthi Break in 2023 provides the perfect opportunity to explore these 10 calm and lush monsoon destinations. With gentle monsoon weather and vibrant greenery, these places promise a refreshing and relaxing escape for families.
So, pack your bags, embrace the monsoon magic, and create unforgettable memories in these picturesque locations. Happy travels!