The monsoons are here. And so are the monsoon foods we love love LOVE having when it rains.
This includes fried, roasted, barbecued, maggie, tea and anything that's piping hot, delicious, spicy and a good mouthful of flavour.
But what occupies our hearts the most is FRIED FOODS.
Hot, crispy, crunchy, finger-licking yummy, flavorful DELICIOUS fried anything.
Let's start with Fried Food
When it starts to rain, bhajjis, pakodas and all things fried and crispy are the first monsoon foods to pop into our heads. The thought of it alone is enough to make us salivate.
Fried snacks are a staple in every Indian kitchen during every rainy season. And if you aren't enjoying these golden-brown fried to perfection snacks at home, we are sure that you would have frequented a stall at least once in the downpour.
The monsoons take a cultural centre stage in the Indian subcontinent and food is a big part of it. With centuries of tradition behind us, it is now instinct to crave certain fried snacks once we see gloomy skies, open umbrellas, puddles and the glorious rain. Fried snacks, especially batter wrapped ones, that enter the heart of a kadhai and emerge all golden from the hot bubbling oil. We have a literal physical response to this – our mouth waters and all our patience disappears. We can't help but gobble up the golden snack. And we want it while it's hot!
Science explains the cravings for monsoon foods, especially fried food.
To make it brief, the rainy weather results in our serotonin levels dropping. Serotonin is a hormone that is also a mood stabilizer. It enables our brain cells to communicate with our nervous system cells. Along with being a neurotransmitter it also acts as an appetite suppressant. You can read more about Serotonin here.
Somehow, when there is poor sunlight along with the drop in temperature sees a dip in serotonin levels. To compensate for this we naturally crave fried and fatty foods. That's because fried and fatty foods rich in carbs contain tryptophan which our brain uses to produce serotonin.
It's because of all the rains and the resultant chemical reactions that we have an entire Monsoon cuisine dedicated to satisfying our rainy day cravings.
Without much further ado, here's the list of our favourite monsoon foods.
A top favorite: Bhajjis. A.k.a. Bhajiyas.
The golden fritters, deep-fried to perfection which is a crispy exterior, hot and oh! so yummy, just sits at the centre of our hearts when it rains. The popular varieties include potato and onion. The entire process of slicing the potatoes or onions on a mandoline slicer in a rhythmic motion of the palm, the coating of the batter and the dive into the hot oil is nothing short of a symphony, a symphony that's enjoyed with that first bite.  These days a lot of healthy ways can be adopted to avoid the unwanted fats and cholesterols accompanying our favourite foods and we should definitely adopt the new methods too.
Other veggies like large chillies, spinach, cabbage, bell peppers, zucchini, and so on are also used. Basically, any veggie that's battered and deep-fried tastes amazing.

Next on our list: Street Style Butta
The street vendors selling corn on the bob, roasted and spiced appear with the rains. It's almost like they rain down from the clouds first, followed by the rain. The entire corn on the cob is roasted on a charcoal fire, giving it a smokey flavour. Once cooked, a spice mix of chilli powder, chaat masala, kala namak and salt is vigorously rubbed on each kernel using a lime slice. That's the key – the lime marries the flavours of the different spices together as they get into every edge and corner of the corn kernels.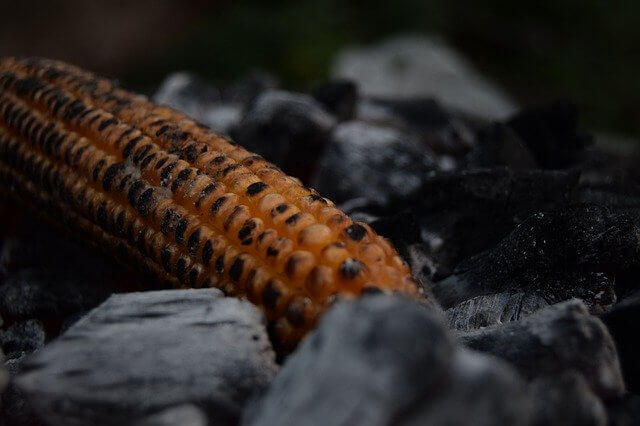 The best thing about this snack is biting into it with an open umbrella balanced on the shoulder because something this delicious can only be relished with two hands.
I just need a Samosa. Make that Two.
Piping hot and kind of omnipresent, this crunchy stuffed snack can uplift one's mood in any season. But in the rains, it casts a different spell. From its crunchy exterior to its steaming hot filling of spicy potato, each bite is just oh so satisfying. Its accompaniments of chutneys act as backup dancers on our tongue giving us that absolutely feel-good moment.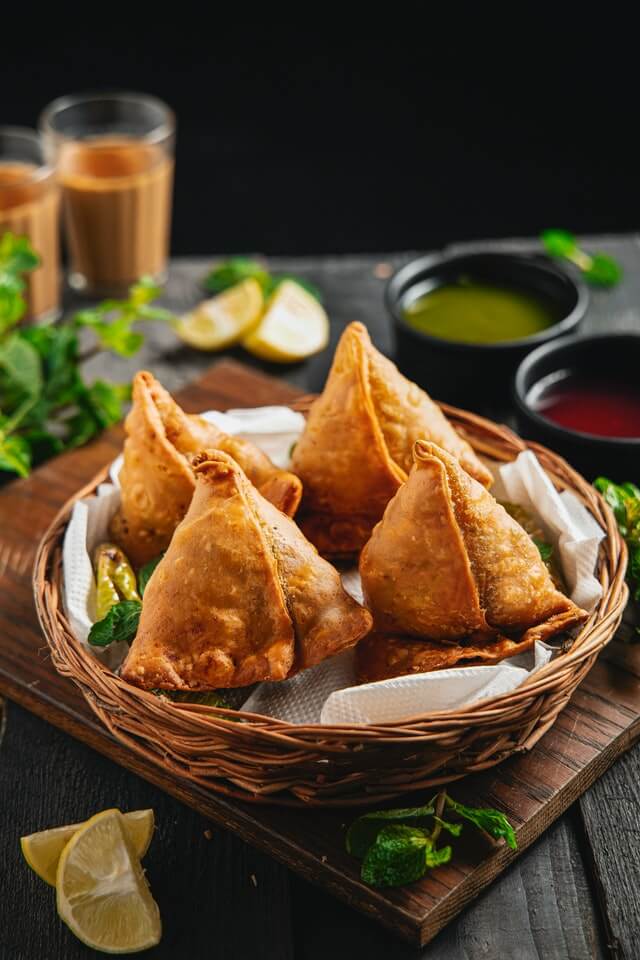 Samosas come in a variety of fillings besides spicy potatoes. Right from an assortment of veggies to cheese to meat fillings, they all taste just as yummy. So are you craving a samosa yet?
Maggi Noodles
In India when someone says noodles Maggi comes to mind. And when someone sees rain, a craving for Maggi noodles arises. There is a process, a complete ritual if you will, to make a bowl of these yummy noodles. A brick of these instant noodles is cracked in half and added to boiling water along with the masala packet. Give it a few minutes and you have a hot bowl of noodles ready. You can add some veggies to the boiling water, eggs, butter, chicken, sauces and so on. It can be a little dry or even soupy.
Want a better way to enjoy Maggi? Have it in the mountains – especially when it rains. A bowl of steaming hot Maggi in a foggy hill station on a rainy day (or night) with the cold rain pattering around you – it's heaven.
This is not a sponsored post for Maggi Noodles.
I need a cup of tea now
What better Indian beverage to compliment all these yummy monsoon foods than a good cup of tapri chai. Be it a cutting or a Kulhad, chai or tea just completes any snacking experience. It is the sweet ending to all the spice and flavour. The way the tapri wala bhaiya makes it is nothing short of sorcery when he conjures this amazing elixir. Watching all that tea rolling as it boils and the way it is stirred and poured over a height just keeps us transfixed.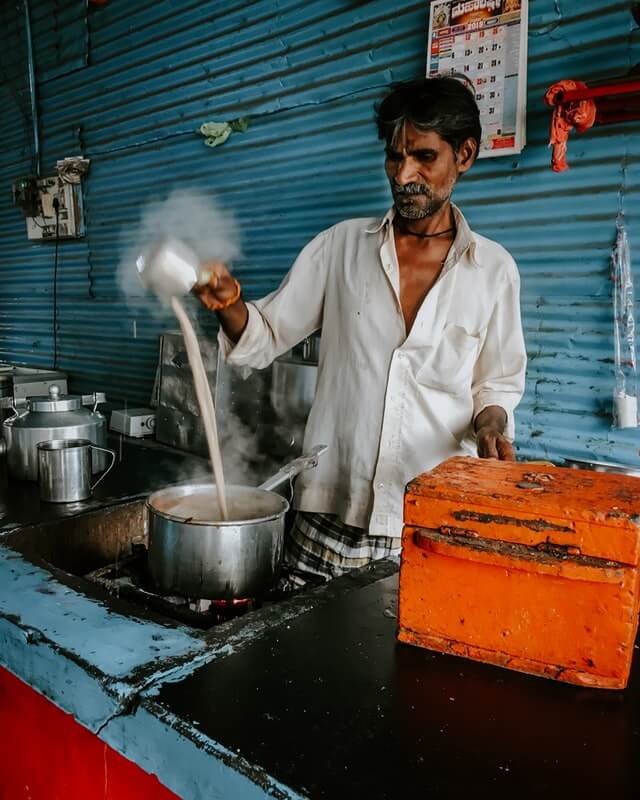 Once you take that first sip, the sweetness of the tea along with the savoury flavours of the snacks create an amazing symphony of flavours in the mouth. It just is the perfect sweet satisfaction that keeps you going for the next sip.
You can have it light with lots of milk, strong with that deep earthy colour or spiced up with masala. But YOU MUST HAVE IT HOT.
It complements the way you experience the season.
For a culture that is deeply influenced by the seasons, the monsoons are the most dominant. There are various festivals, artforms and rituals associated with this season. But the cuisine is what most of us feel strongly about when it rains. It is our way of experiencing the entire season on a plate of delicious snacks and a cup of hot tea.
DO you have a monsoon favourite? Share with us in the comments below.