Navratri is a vibrant and colourful festival celebrated in various parts of India in diverse ways. Maa Durga is worshipped on nine different days, each of which depicts a different avatar. Different Indian states exhibit their love for these festive celebrations in various forms. In a way, it is a very human thing to celebrate humanity, by coming together and celebrating a festival on a grand scale.
The festival indicates the vadh of Mahishasura by Goddess Durga, which is good triumphing over evil. This festival is frequently associated with Garba and Dandiya, but there is more to it. Yes, people of all faiths, not just Gujaratis, worship and enjoy themselves during this festival.
Let us have a look at what 9 different days show us in 9 different ways in India.
1. West Bengal, Bihar, and Assam
Navratri is celebrated with great enthusiasm in the northeastern parts of our country. The festival here is known as Durga Pooja. Idols of Maa Durga, along with Goddess Laxmi, Saraswati, Ganesh, and Kartikey are set up in temples and various pandals. People consider the last four days, Saptami, Ashtami, Navami, and Dashami, important festivities. Women adorn themselves in beautiful red sarees while men wear festive dhoti-kurtas to enjoy the festival. Beautiful lights and the sounds of Dhol, Dhak, and Dhunuchi naach fill up the festive atmosphere. If you are planning to visit West Bengal, witness the cultural display of Durga Pooja at its best.
Fun fact: The first Durga pooja was celebrated in Dinajpur by the royal family of Malda sometime in the 16th century. Durga pooja mania actually hit Kolkata in 1909.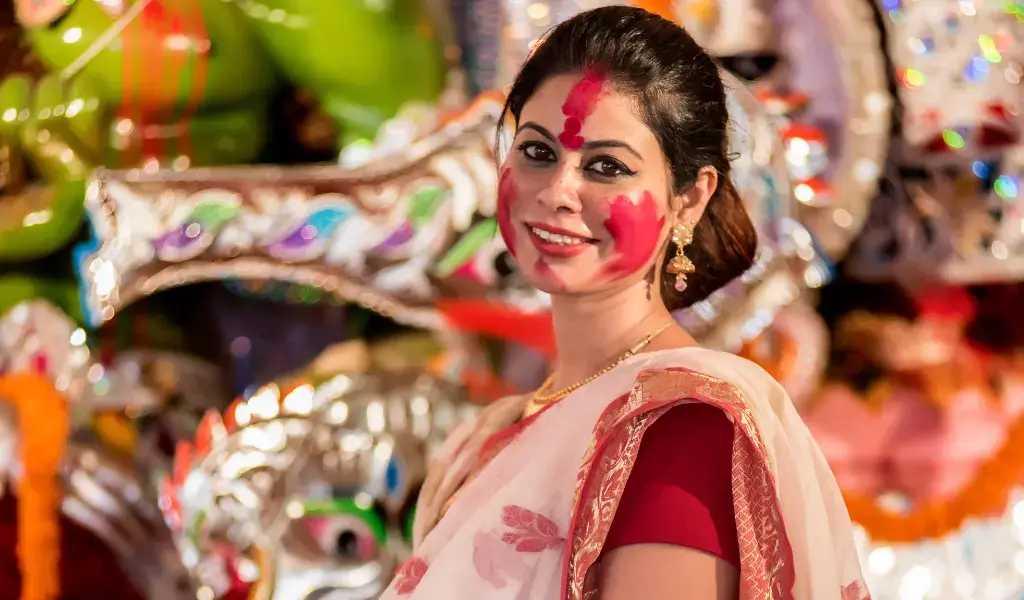 2. Gujarat
One can find the most vibrant and colourful ways of celebrating Navratri in the western state of Gujarat. Gujaratis worship the nine avatars of Maa Durga and celebrate each day by observing a fast to honour nine different incarnations. Women do pooja and offer their prayers while lighting an earthen pot known as Garbo. The light inside the pot indicates life inside the womb. After offering prayers, women dress up in chaniya choli, and men adorn kediya, a traditional attire to perform Garba and dandiya raas around the Garba, which is placed at the centre. Every club and society in Gujarat is full of life during this festival.
Fun fact: Garba dancers move in a circle and also make circular motions with their hands and feet while elaborately whirling around to represent the circle of life.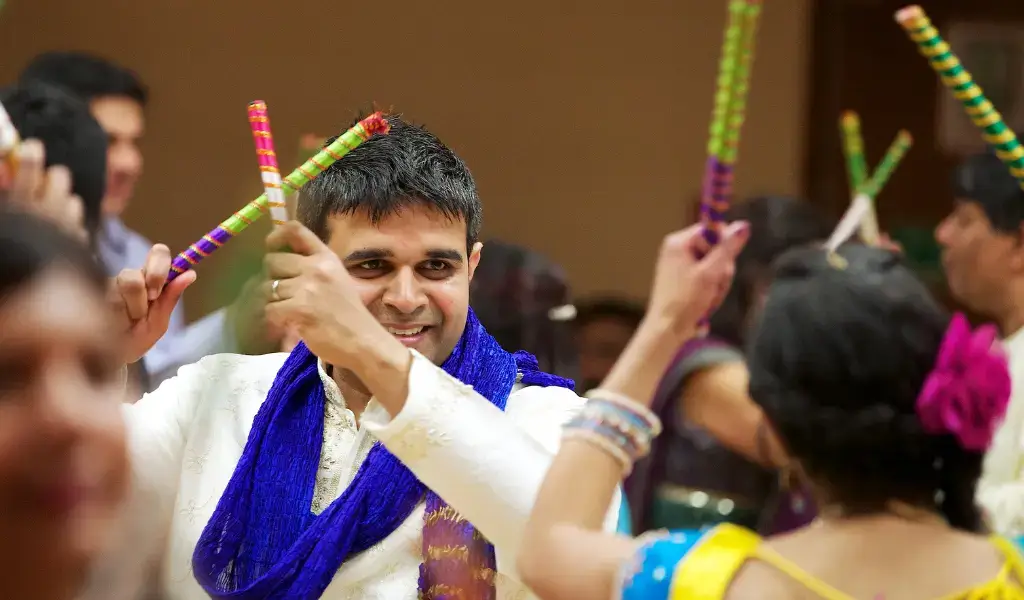 3. Tamil Nadu
Tamil Nadu has a unique way of celebrating this auspicious festival. People pay homage to not only Maa Durga but also Goddess Saraswati and Laxmi. The southern people love to call friends, family, and relatives at home to celebrate Bommai Kolu. They prepare a staircase that is decorated with dolls of various gods and goddesses. The 9 stairs represent 9 different days of Navratri, and the dolls are said to have been passed on for generations. It is all about exchanging clothes, jewellery, and gifts during the fascinating 3-day ritual. The festival is also celebrated as Bommala Koluvu in Andhra Pradesh and Telangana.
Fun fact: Golu is an art of storytelling where the dolls and how they are represented take us back to the time of legends and myths.
4. Punjab
People in Punjab, including women, organise jagratas, which basically means chanting religious songs dedicated to Goddess Shakti. They keep up all night to worship the goddess. They observe a fast for the first 7 days of the festival and break it on Ashtami or Navami. They worship nine little girls and a boy by calling them from the neighbourhood and offering a feast prepared by them.
Fun fact: These girls represent nine different avatars of Maa Durga. They are called Kanjika and are offered food, money, and clothes.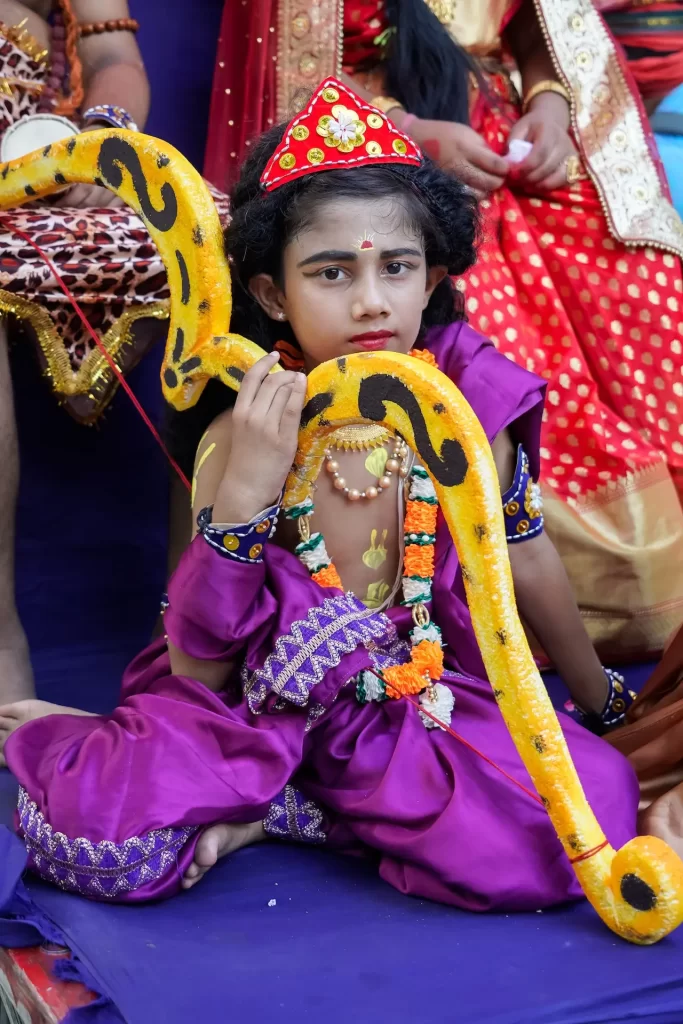 5. Maharashtra
For Maharashtrians, Navratri is a festival of new beginnings. Married women invite married friends and apply kumkum and haldi on their foreheads and gift them coconut and beetle nuts. This is also known as haldi-kumkum. Men buy new cars and properties and perform Pooja. Just like Gujratis, even people in Maharashtra enjoy Ras Garba and Dandiya in colonies and societies.
Fun fact: A copper or brass jar filled with water is kept on a heap of rice, which is placed on the wood, and a lamp is lit, indicating knowledge and prosperity.
6. Himachal Pradesh
Navratri is celebrated on the 10th day in Himachal Pradesh; it's when celebrations are over in most parts of India. People here carry out processions with idols of their local deities. The streets are adorned with illuminating lights and decorations. The festival is known as Kullu Dussehra, and it depicts Lord Rama's return to Ayodhya through the Rath Yatra, performed on the streets of Kullu. Then dance and rituals are performed, followed by the well-known LankaDahan near the Beas River. The festival here symbolises the triumph of good over evil.
Fun fact: Unlike the rest of the country, the Ravana effigy is not set on fire here. Instead, a pile of wooden logs are set alight to indicate the symbolic burning and defeat of Lanka.
Isn't it amazing how different festivals are celebrated in various parts of India with so much love, kindness, and dedication? Our country is truly blessed with unity in diversity. The good part is that we can record these festivities as we go along. I would love to visit each and every location and partake in the Navratri festivities, enjoying the delicacies, dancing to all the folk songs, and being a part of all the beautiful cultures.
Which state would you choose if you had the opportunity to visit during this season? Tell us in the comments section below.