We select our products independently. If you decide to make a purchase from one of our links, we may earn a share of sales in the form of a commission or any other form of compensation. All information about the products mentioned, including the description, stock availability and pricing, was accurate at the time of publishing this article.
---
A reading habit that is flexible to accommodate our daily chores and brings a balance between everyday responsibilities and the pleasure of a hobby.
How does one achieve this? Well, with some structure, a guide, and the magic of balance, of course!
Ready to level up your reading game with the It's All About Balance Reading Challenge? We're here with a guide.
This is the perfect challenge if you are looking for:
A good mix of genres without making it complicated.
Books that you can take a break from and get back to whenever there is a time crunch.
A reading pattern that fits into your life well enough without you stressing over completing the book.
Goals:
1-2 books every month
A total of 12 or 24 books in the year
Intense books that give your brain a little jog: a little reflecting, a little thinking, a little pondering over.
Let's explore some prompts to start you off!
1. A Book with A Studio Ghibli Adaptation
Nothing spells comfort and magic the way a Ghibli movie does. The iconic studio's unique aesthetic and creative adaptations of whimsical and wholesome stories have recently received more interest as more people look for feel-good content. While quite a few Ghibli movies are based on books and manga, here are two that stand out.
Howl's Moving Castle by Dianna Wynne Jones
When she unwittingly attracts the ire of the Witch of the Waste, Sophie finds herself under a horrible spell that changes her into an old lady. Her only chance at breaking the curse lies in the ever-moving castle of the Wizard Howl. In her quest, Sophie must handle the heartless Howl, bargain with a fire demon, and meet the Witch of the Waste head-on. On the way, she soon discovers that there's far more to herself and Howl than first meets the eye.
A Wizard of Earthsea by Ursula K. Le Guin
Ged might be the greatest sorcerer in all of Earthsea, but he used to be called Sparrowhawk in his reckless youth.
Hungering for power and knowledge, Sparrowhawk tampers with long-held secrets and loses a terrible shadow upon the world. In this tale of his testing, he masters mighty words of power, tames a dragon, and crosses death's threshold to restore balance.
2. A Twisted Mystery Thriller where No One Knows What's Happening, Least of All the Narrator
Unreliable narrators are usually a hit or miss, and more so one that entirely depends on what you like to read and the author's execution of it. A good unreliable narrator is easy to root for, entirely focused on and dedicated to their mission, but also good at acknowledging that they do not have all the information. These are relatively quick and engaging reads that will take you on an (unreliable) journey.
We Were Liars by E. Lockhart
A beautiful and distinguished family escapes to a private island every summer. A brilliant, damaged girl falls for a passionate, political boy. A group of four friends call themselves the Liars, and then their friendship turns destructive. Accidents, secrets, lies and true love intricately weave themselves around this family… but what is the truth?
Elizabeth is Missing by Emma Healey
Elderly Maud, with dementia, searches for her missing friend Elizabeth, but no one believes her. Maud resolves to find Elizabeth by relying on handwritten notes she leaves for herself. However, her obsession leads to a past tragedy, the disappearance of her sister Sukey. Maud believes that solving the mystery of Sukey's disappearance could lead her to find Elizabeth.
3. Love Born Amidst Food Wars
Food is increasingly becoming an integral point in a lot of newer books – and it's of course for the best. Perhaps the eternal connection between the stomach and the heart playing out? Being introduced to new cuisines while a rom-com plays out? Yes, please! What a great way to engage multiple senses! Mix in warring family restaurants getting in the way, and you have a recipe (haha) for a very fun time.
A Pho Love Story by Loan Le
The Mais and the Nguyens have been at odds for years, having owned competing pho restaurants in the same neighbourhood. Bao and Linh have avoided each other for most of their lives, but both suspect that the feud stems from feelings that go deeper than friendly competition.
When a chance encounter brings Linh and Bao together despite their best efforts and sparks fly, they both wonder what took so long for them to connect. Soon, of course, they remember immediately.
Could Linh and Bao find love as their families feud and they uncover complicated histories?
Tweet Cute by Emma Lord
Pepper runs her family's massive food chain – Big League Burger's Twitter account. Jack has a bone to pick with Big League Burger when they steal his grandmother's iconic grilled cheese recipe from his family's local deli and with one tweet at a time, he is committed to bringing them down.
As their Twitter spat goes viral, Pepper and Jack are falling for each other as classmates – and on an anonymous chat app that Jack built. Their relationship deepens, and their online shenanigans escalate ― and people on the internet are now shipping them? Their battle soon gets personal, until even these rivals can't ignore they were destined for the most, awkward, all-the-feels romance that neither of them expected.
4. Murder and Mayhem and Ladies of a Certain Age
Older women are criminally under-represented in fiction but with these two recommendations, they're at the forefront in a messy, murder-y romp. This a great opportunity to explore an extremely specific subgenre, hope you enjoy these recommendations!
Dial A for Aunties by Jesse Q. Sutanto
When Meddelin Chan accidentally kills her scummy blind date, her mother calls her aunties to help them rid the body. Inadvertently, the body ends up at the island resort where Meddelin and her aunties are working at a billionaire's wedding, making the job all the more difficult.
But the situation goes from inconvenient to downright torture when Meddy's biggest college love—and heartbreak—makes a surprise appearance in the wedding chaos. Meddy has a big challenge to achieve in just one weekend: charm her ex back into her life, escape charges and pull off a stunning wedding
Killers of a Certain Age by Deanna Raybourn
Having spent most of their lives as the deadliest assassins in a secret international organization, four sixty-year-old women friends can't just retire – someone's out to get them – what an action thriller!
5. Thieves, Heists and ✨ Culture ✨
Missing content like Ocean's Eleven and other iconic heist-y, clever thief media? Relatable!
There's something delicious about heist stories – the planning, the camaraderie of an ensemble cast, the execution, the slipperiness and panache that the lead absolutely must have to carry it off, along with, glamour, style and culture – all of these make for a tantalizing, eat-the-rich type of experience that we all love! Or at least we should. These two recommendations follow master thieves and their crews in their hijinks, enjoy!
The Lies of Locke Lamora – Gentleman Bastard #1 by Scott Lynch
In the mysterious island city of Camorr, an orphan's life is hard and often short. But young Locke Lamora dodges death and slavery, by becoming a thief with the guidance gifted con artist. Soon, as the infamous leader of a band of light-fingered brothers known as the Gentleman Bastards, Locke tricks even the underworld's most feared ruler. However, in the shadows lurks someone still more deadly and ambitious. With a bloody coup rearing its head – one that threatens to destroy everyone and thing that holds meaning in his life, Locke swears to defeat the enemy at his own brutal game—or perish trying.
The Thief by Megan Whalen Turner
The magus is the king's scholar, and he believes he knows the site of an ancient treasure. He needs a skilful thief to attain it for his king and he selects Gen from the prison. While the magus is interested only in the thief's abilities, what Gen is interested in is anyone's guess. Their journey to hunt the treasure is dangerous and difficult, filled with intrigue, adventure, and surprise, lightened only imperceptibly by the tales they share of the old gods and goddesses.
6. Of Old Gods and New Love
Has any concept been storied and celebrated as much as love? The concept of gods certainly has, and many a culture even has a god of love. when it comes to capturing a sense of magic and whimsy, nothing can quite do it like stories that bring together the old power of gods and the passionate sweetness of new love together.
Lovely War by Julie Berry
The Greek Goddess of love, Aphrodite recounts the story of two lovers who meet, fall for each other and deal with the cruelty of war during World War I, to her husband, Hephaestus and her lover Ares. She tries to answer the age-old question of why Love and War are drawn together, while uncovering a tale of trauma, prejudice and music and reveals how – and why – Love always conquers War.
Gods of Jade & Shadow by Sylvia Moreno-Garcia
Although it's the jazz age and Casiopea Tun is too busy cleaning the floors of her wealthy grandfather's house to listen to any fast tunes, she dreams of a life far from her small town in Mexico.
This new life seems as distant as the stars until the day she finds a wooden box in her grandfather's room and opens it—to accidentally free the spirit of the Mayan god of death, who requests her help in taking back his throne from his treacherous brother. Failure will mean certain death, but success could make her dreams come true.
7. A Reimagined Historical Fantasy
History has endlessly fascinating gems to offer in terms of intriguing stories and lifetimes.
Some authors have gone a step beyond recounting the lives of some lesser-known historical figures – they have applied their own spin to it. While these two recommendations feature the retelling of Chinese royal figures, there are many spanning several cultures and geographies.
Iron Widow by Xiran Jay Zhao
The young men of Huaxia aspire to partner with girls to control giant transforming robots called Chrysalises to battle invading aliens. However, the girls often suffer from mental strain and may die. Zetian becomes a concubine pilot to avenge her sister's death but ends up killing the male pilot responsible for it through the psychic link. She is now labelled an Iron Widow, a female pilot who can sacrifice boys to power the robots instead. Zetian is paired with Li Shimin, the strongest male pilot, but she will use her newfound power to survive repeated attempts on her life and uncover the reason for the system's misogyny.
She Who Became the Sun by Shelley Parker Chan
In 1345 China under Mongol rule, the fate of the eighth son of the Zhu family is believed to be great, while the second daughter's fate is nothingness. After a bandit attack leaves them orphaned, the brother perishes after succumbing to his despair. The daughter then uses her brother's identity to enter a monastery as a male novice. She learns to do what it takes to hide from her fate, but after the monastery is plundered for its support of the anti-Mongol rebellion, she takes her brother's abandoned greatness as her own.
8. Magic Libraries and Stories that Come Alive
Stories are magical in themselves but become infinitely more so when they feature libraries and books that have a mind of their own – offering more than just words on pages.
These two books feature unique premises but have one thing in common – truly making the magic of books feel real.
Sorcery of Thorns by Margaret Rogerson
When a magical library's most dangerous grimoire is released in an act of sabotage, Elisabeth's desperate intervention implicates her in the crime, and she is ripped from her home to face justice in the capital of Austermeer. She has no one to turn to but her sworn enemy – the sorcerer Nathaniel Thorn, and his mysterious demonic servant – Silas. Elisabeth soon finds herself entangled in a centuries-old conspiracy, discovering that not only could the Great Libraries go up in flames, but the world along with them.
The Starless Sea by Erin Morgenstern
A timeless love story set in a secret underground library — a place of pirates, painters, lovers, liars, and ships that sail upon a starless sea.
Zachary who discovers this library through destiny, together with Mirabel, a fierce, pink-haired protector of the place, and Dorian, a handsome, barefoot man with shifting alliances, travels the twisting tunnels, thronging ballrooms, dark stairwells, and sweet-soaked shores of this magical realm, finding his purpose—in both the mysterious book and in his own life.
9. Capturing Celestial Bodies
If I were to be asked what's something that feels like magic but isn't – my first answer would be the stars and moon. And I'm sure many would answer similarly. Celestial bodies have fascinated us earthbound beings for centuries, and we have longed to capture their beauty.
These books focus a lot on appreciating the beauty of the inconstant skies and the lights that rule them.
Spin the Dawn by Elizabeth Lim
Maia Tamarin poses as a boy to compete for the role of imperial tailor to save her family from ruin. However nothing could have prepared her for the final challenge, as she embarks on an impossible journey with the court magician Edan to sew three magic dresses – from the sun, the moon, and the stars. The story is steeped in Chinese culture, sprinkled with forbidden romance, and shimmering with magic
Star Daughter by Shveta Thakrar
Sheetal Mistry is the daughter of an actual star. As her seventeenth birthday draws close, the pull from the sky grows stronger, so strong that she loses control, and a flare of starfire burns her human father—an injury that can only be healed by a full star's blood.
With no other but to answer the starsong, Sheetal ascends to the sky. However, her celestial family has summoned her for a reason: to be their human champion in a competition that will decide the next ruling house of heavens.
10. The Fascinating Fae
The Fae have long been featured in fairytales and European myths, and proof of their existence still remains a debate. We've seen a rise of fae characters in mainstream literature as different authors examine them from different lenses – cold, cruel, mysterious or sweet, innocent and the gentle protectors of nature. There are many books to choose from, but our two recommendations give you a taste of both the sweet and sour.
Half a Soul by Olivia Atwater
It's never easy to find a husband in Regency England, especially when you're a young lady with only half a soul.
After a faerie curses her, Theodora Ettings has no sense of fear or embarrassment – making her prone to accidental scandal. Dora hopes to keep to herself during the London Season – but when the odd, handsome and utterly unrefined Lord Sorcier discovers her condition, she is instead drawn into unsafe and peculiar faerie affairs.
Can Dora's reputation survive both her curse and her sudden connection with the least-liked man in all of high society?
An Enchantment of Ravens by Margaret Rogerson
Isobel is a gifted painter, and the fae cannot create art, even when they crave it so. When Isobel makes a fatal mistake and paints emotion in the eyes of her latest fae client – Rook, the autumn prince – he whisks her away to his kingdom to stand trial for her crime.
However, something is very wrong in his world, and they are attacked from every side. With only each other to depend upon for survival, their alliance blossoms into trust, perhaps even love… a forbidden emotion that violates the ruthless laws of the fair folks', rendering both their lives forfeit. What force could they conjure to combat the old malice of the ancient fae?
Their journey along a knife's-edge of a lush world – where ethereal beauty masks corruption and the cost of survival might be more frightening than death.
11. Magical Duels and Magicians
Nothing says whimsy, colour, and life like a circus in a book – especially ones that have that extra sprinkling of magic on them. These two circus-based stories will take you on a colourful, confounding journey.
The Night Circus by Erin Morgenstern
The Le Cirque des Rêves is a mysterious and elusive circus that appears and disappears at will, and only ever at night. Young magicians Celia and Marco have been trained since childhood to compete in a deadly game of magic, with only one allowed to survive. The two end up falling in love, but the competition between them continues, with the fate of everyone involved at stake.
Where Dreams Descend by Janella Angeles
In a city covered in ice and ruin, several magicians face off in a daring game of magical feats to find the next headliner of the Conquering Circus, just to find themselves under the threat of an invisible danger behind the scenes.
As each act becomes increasingly risky and the number of missing magicians grows, three are forced to face their secrets before the darkness comes for them.
12. Serial Killer Thrillers in Fantasy Worlds
Serial killer thrillers are always a fascinating, creepy experience. The fear, anticipation and disgust we feel are palpable, the shock and the nail-biting anxiety are jarring but also enjoyable.
And when we have a serial killer in a fantasy setting? The potential for the sensory journey is heightened! Here are two books about serial killers terrorising a fantasy world.
The Helm of Midnight by Marina J. Lostetter
In a daring and life-threatening heist, thieves steal away with an artefact of terrible power–the death mask of Louis Charbon. Created by a master craftsman and imbued with the spirit of a serial murderer who terrorised the city with a series of gruesome murders.
Now Charbon is loose again, killing from beyond the veil of death. But these murders differ from before, not random anymore, but the deliberate work of a mind-probing for answers to a sinister question.
It is now Krona Hirvath and her fellow Regulators' duty to stop this insatiable killer as they face the terrible truths left in his wake.
Far From the Light of Heaven by Tade Thompson
Ragtime is a colony ship, and as it docks in the Lagos system, after having travelled light-years brings a thousand sleeping souls to a new home among the stars. However, when first mate Michelle Campion awakes, she discovers some of the sleepers will never wake.
Answering Campion's distress call, investigator Rasheed Fin is in charge of finding the one responsible for these deaths. Soon a sinister mystery unravels on the giant vessel, one that with repercussions for the whole system—from the wily politicians of Lagos station to the colony planet of Bloodroot, to other far-off systems, and of course, to Earth itself.
Ready to take on several worlds with this exciting mix of stories and genres?
We certainly are brimming with excitement! There is nothing quite like losing yourself in multiple worlds or the lives of fictional characters, and we hope you find a story here that will be your world for a few hours or days this year.
A Snapshot of the Reading Challenge Level 2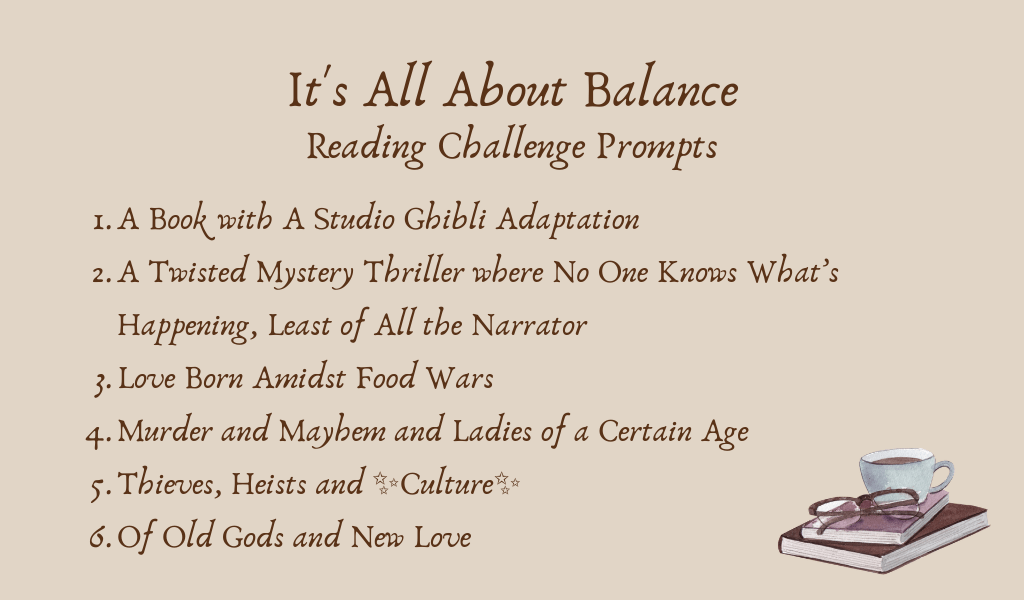 If you want to check out Level 1 of the 2023 reading challenge check out our Reading Prompts for the Easy Reader Reading Challenge
Happy reading!
---
Rachel Varghese is an aspiring writer, and storyteller with a love for all things fantastic, exciting, and cosy – books, movies, or TV Shows. She is continuously battling her TBR/TBW list while always looking for diverse new things to read and watch.
She is currently supporting women entrepreneurs in their growth journey through her work as a Marketing & Growth Associate.